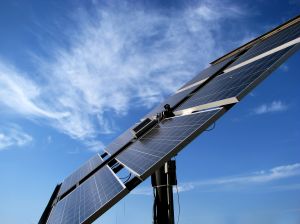 With the entrance of Arizona based Evolution Solar Corp [EVSO] Bermuda residents will have a new option for solar photovoltaic technology.
The company recently completed the legal process of forming its new Bermuda subsidiary.
EVSO announced in February 2010 that they decided to form the subsidiary, in order to meet contractual eligibility under Bermuda law.
The move is a deliberate step forward to aggressively pursue business opportunities that will be created as a result of the Bermuda Government Solar Photovoltaic Rebate Initiative for residential users. The Department of Energy has created the Solar Photovoltaic Rebate Initiative [SPRI] to encourage the Bermudian homeowner to install solar photovoltaic technology.
Solar photovoltaic technology converts light energy from the sun into direct current electrical energy. Bermuda residents who apply for SPRI will be awarded one dollar per Watt of installed DC photovoltaic panel capacity.
The maximum SPRI allowance per applicant will be $5,000 and only one SPRI application will be allowed per assessment number. To read the full SPRI from the Department of Energy click here [PDF].
Robert Hines, President of Evolution Solar said:
It is one more step in a positive direction as we pursue our goal of becoming a true player in the Bermuda solar marketplace — whether it is commercial or residential applications, we want offer solutions that make sense.
For an installation to qualify for the SPRI, it must be carried out by a certified solar photovoltaic system installer.
Below is a list of the presently Dept of Energy certified installers:
Alternative Energy Systems, Phone: 505-0804
Bermuda Alternate Energy Ltd, Phone: 292-0881
Bermuda Engineering Supply Company Ltd, Phone: 238-2776
EMPower, Phone: 599-2105
ET Enterprises, Phone: 505-9914
PureNERGY Renewables Ltd, Phone: 299-2808
Solar Bermuda Ltd, Phone: 505-9190
Read More About
Category: All, Environment, News