The Bermuda Cat Fanciers Association held their 38th Championship & Household Pet Cat Show at the BAA Hall on Sat March 13th. The theme of "Irish Eyes are Smiling" could be seen throughout the event, with plenty of shamrocks and green tinged items.
Seven year old Raphael, pictured below, had two cats in the show, a Maine Coon and Bermuda Special. Raphael informed us in no uncertain terms that he felt his cats would win as they were so fabulous that they had to.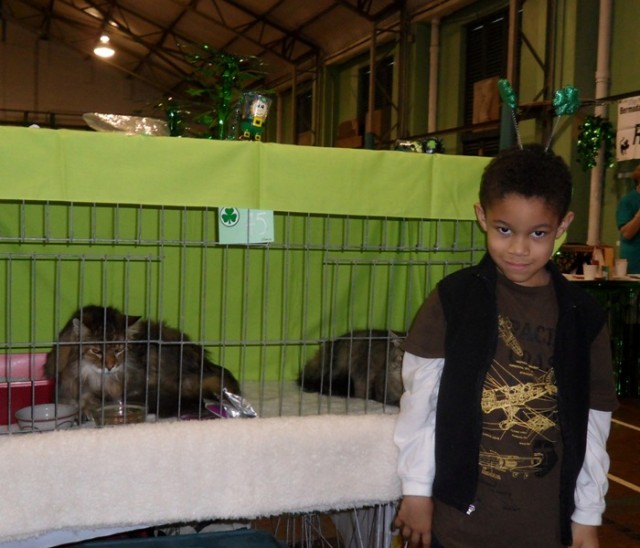 Ms. Elizabeth Wainright also had two cats in the show; both 'Exotics', which are shorthaired Persians.  Named "Billy" and "Lily", these two were notably larger then most the other cats on show, with one of the pair tipping the scale at 15lbs. Descending from the same litter, they eat dry food all day and wet food at night. [We had previously mislabeled the breed, we do apologize!]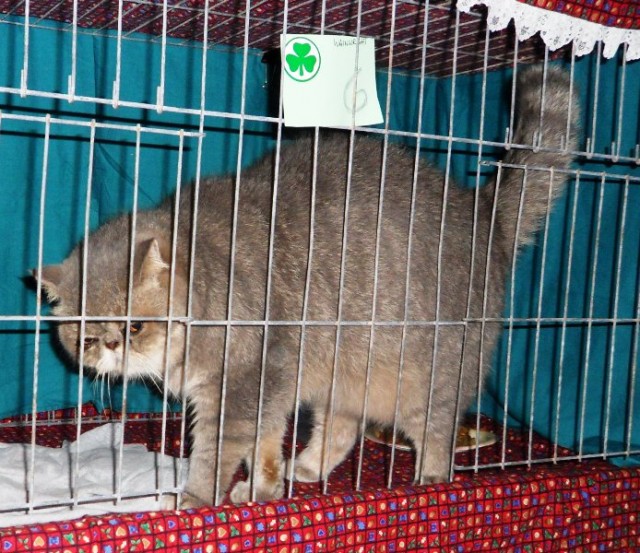 There were a few Abyssinians on show, one pictured below. The shorthaired cats are arguably the most active breed of cats, with a lot of personality. We were told that Abyssinians are bred locally.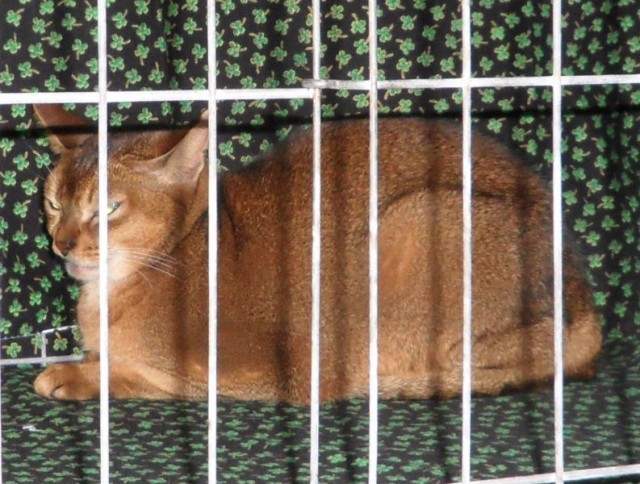 Chatting with cat enthusiasts, we were told that many of these pedigree cats stay indoors most of  the time for safety reasons.
The show was judged by three expert judges, who all flew in from overseas for the event; Liz Watson, Wayne Trevethan and Roger Lawrence.
A veteran in the field, Roger Lawrence is one of only three qualified CFA judges in Canada. He explained the judging procedure as consisting of each breed having a written standard, and each cat is compared to that standard with the highest points being awarded to the cat which best matches the standard.
Having judged cat shows in numerous nations through Europe and Asia, Mr. Lawrence showed good taste in more then just cats, informing us that Bermuda is his favourite place in the world.
The organizing committee consisted of Morag Smith, Karen Penacho, Julie Villenuve, Mae Howe, Nadia Hamza, Lorraine Lucas, Tracey Madeiros, Marilyn Martin and Diana Plested.
Click to enlarge images:
We would like to thanks Ms. Wainright and Mr. Lawrence for their assistance. For further information visit the International Cat Fanciers' Association website.
Read More About