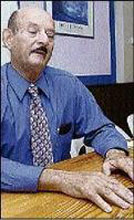 As we first reported almost a week ago, there was news out of Jamaica that fugitive Harold Crooks, a former high ranking police officer, may be hiding in Bermuda.
Mr Crooks is wanted in Jamaica on charges of sexual molestation of a minor. The former commandant of the Island Special Constabulary Force is believed to have fled Jamaica to avoid a trial on March 17 2010.
Channel 5 News in Belize, the nation's first television station, reported on Monday March 29 about Mr. Crooks, titling the article "Harold Crooks absconds to Bermuda", and saying that he is "is believed to be holed up in Bermuda since fleeing the island on March 17."
Mr Crooks himself has made contact with a Jamaican radio station, claiming to be in Canada. The Jamaican police have mentioned the possibility of Mr. Crooks, who has 22 years experience as a police officer, feeding the authorities false information about his whereabouts.
The Bermuda Police previously debunked this report stating:
Inquiries have been conducted today in relation to reports of a Jamaican fugitive being in Bermuda. There is no information to substantiate those rumors.
In a strong stroke of irony, as a senior policeman Harold Crooks was responsible in 2009 for writing the "Crooks Report", a 146 page report on police reform. What appears to be Mr. Crooks Linkedin profile details an extensive career in law enforcement
The Jamaican press reported a related development in this case today, Mr Crooks 25 year old adopted son Koran Dias has been charged with carnal abuse and indecent assault in connection with the alleged assault on a minor. Mr. Dias was arrested two weeks ago by the police who were investigating his father in the same case.
Read More About