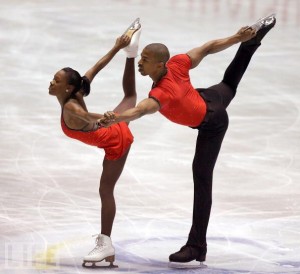 Next week Bermudian figure skater Vanessa James will compete at the 2010 World Figure Skating Championships in Turin, Italy.
She and partner Yannick Bohuer became the first black couple to compete in Olympic figure skating at the 2010 Vancouver Games.
Their first event will be the pairs short program on Tues, March 23. The competition concludes on Sat, March 27.
The defending World Champions in pair skatings are Germans Aliona Savchenko and Robin Szolkowy. As of February 2010, they were ranked 1st in the world.
Along with Vanessa and Yannick, Robin Szolkowy is one of the few black figure skaters competing at world level. The biracial skater is the son of a Tanzanian doctor and German nurse. Although black athletes are extremely rare in the former East Germany, Mr. Szolkowy told the New York Times before the Olympics that he never experienced racism.
24 year old Canadian Joannie Rochette, who captured bronze at the Vancouver Olympics only days after her mother's death, has withdrawn from the world championships, stating she is not emotionally prepared.
Born in 1987, Vanessa James, along with twin sister Melyssa, lived in Bermuda as a child and attended Mount Saint Agnes Academy. Her father is Bermudian, which enabled Ms. James to hold British citizenship and to later compete for Britain. She has now switched to representing France.
She is the daughter of Kevin James, and grandaughter of Devonshire residents Carlton and Ethlyn James.
Read More About