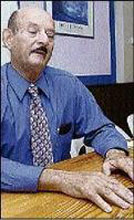 An alleged pedophile once reported to have been possibly hiding in Bermuda was arrested this morning [May 27] in Jamaica. Harold Crooks, a Jamaican national who was wanted for allegations of sexual assault, was arrested this in Ochos Rios. The Jamaican press had reported in March 2010 that the alleged pedophile may have been hiding in Bermuda.
Mr. Crooks, a former high ranking Policeman who was a commandant of the Island Special Constabulary Force, was initially reported to have sneaked out of Jamaica on March 17, entered the USA, with some Jamaican media speculating he may have entered Bermuda.
The Bermuda Police had said at the time that "Inquiries have been conducted today in relation to reports of a Jamaican fugitive being in Bermuda. There is no information to substantiate those rumors."
Mr. Crooks was reported to have been arrested this morning after having been found aboard the ship Carnival Liberty, which entered Jamaica from the Cayman Islands after leaving the United States. He is reported to have jumped off the cruise boat in an attempt to evade arrest. He is presently in Jamaican Police custody.
Reports of the time had suggested that any possible extradition of Mr Crooks from the USA could have been complicated due to the dispute between the two nations over the extradition of  alleged Jamaican drug lord Christopher "Dudus" Coke, who was wanted in the US on drug charges.  Jamaica is presently being rocked by violence over the Dudus Coke situation, with reports saying over 70 people have been killed.
Read More About