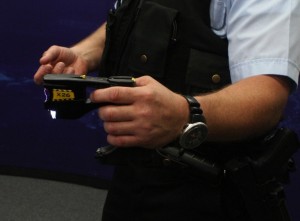 Commissioner of Police Michael DeSilva has strongly denied reports that the police Tasered a man, saying that he may allow the release of the video of the event at a later stage to help educate the public.
The Commissioner says he, along with Minister of Public Safety Colonel David Burch, reviewed the video and audio recording from the device, and that he can officially confirm that the Taser was not activated in this incident.
The incident in question occurred around 11am on May 3rd, when police officers on Par-La-Ville Road encountered a 53 year old Hamilton parish man with outstanding warrants. The police say that as they attempted to arrest him, the man attacked the officers and a violent struggle took place.
Commissioner DeSilva says the officer pointed the Taser at the man to encourage him to stop fighting, which resulted in the man giving up the fight and being safely arrested. He was detained in custody until Plea Court the next day where he was charged with three offences, to which he pled not guilty to:
Using Offensive Words
Violently Resisting Arrest
Assault on Police
Approximately 1 in 3 officers started carrying tasers after police announced their use the week of April 21, 2010. The electroshock weapon shoots electrical currents from up to 25 feet away which will cause the individual to immediately drop to the ground through temporary muscular incapacitation.
The tasers all have an "anti felon identification" [AFID] system. Every time a taser is used, 20-30 small pieces of confetti-like tags are ejected which printed with serial numbers, allowing the Police to determine which exactly which cartridge was fired.
On the subject of the video, Commissioner DeSilva said:
I have considered releasing the video to help educate the public on the use of the device and its accountability measures, but it would not be appropriate to do so until after the man's charges are heard at Court.

Once that happens, I may consider doing so at a later stage.
Read More About