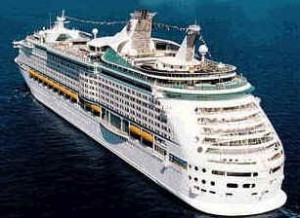 Four days after leaving Bermuda, a crew member of the Explorer of the Seas cruise ship jumped overboard and is now presumed drowned.
The ship was nearing the end of a nine-night Bermuda and Caribbean cruise that departed from New Jersey on April 29, and docked in Bermuda on May 1st.
It was the ship's fourth call to Bermuda for the year, and the same boat that carried the group of motorcyclists that toured Bermuda on their 1,600cc bikes last Saturday.
The ship safely departed Bermuda on Saturday May 1st evening, and on Wednesday May 5th fellow crewmembers reported their coworker missing at 8:40 pm. Reports say that closed-circuit camera footage showed that the man climbed over the railing and lowered himself over the side of the ship.
Upon discovery of the missing man, the captain turned the ship around and returned to the location and was met by the Coast Guard to begin searching for the missing crewmember.
A statement from the US Coast Guard said involved in the search efforts were an Air Station Miami HU-25 Falcon jet crew, an Air Station Clearwater, Fla., C-130 aircrew, and the Coast Guard Cutters Matinicus and Chincoteague.
This was the third such incident for Royal Caribbean in recent months. In March 2010 a crew member on the Radiance of the Seas also went overboard, and died. In December 2010, Neha Chhikara, the 23-year-old wife of a Royal Caribbean crew member, jumped off the Monarch of the Seas in the Bahamas.
Explorer of the Seas is set to call 25 times this year docking at Kings Wharf in Dockyard. The 1,020 feet ship can carry 3,200 passengers, and is the largest cruise ship scheduled to visit Bermuda this year. Its last date of call is in October.
Read More About
Category: Accidents and fires, All, News