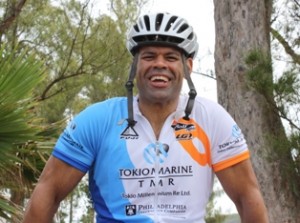 [Written by Macio Talbot, a competitor in the race]
I say this race report is "kind of" because I was never in it really. I suffered a terrible start because I couldn't get "clipped" into my pedals and bumped elbows with someone taking off. There were so many riders in the neutral area (the stretch of road from Arnold's Market in Somerset to St. Andrew's Church) that I couldn't make any passes.
The "A" riders were all allowed to line up nearest the start line (which is fair I suppose) to allow them the best shot at the start, and lets be fair the race winner as far as I know always comes from the "A" group. What was most frustrating was Scaur Hill. "Ice-like" would best describe the traction in the wet there. It is a miracle half the race wasn't wiped out there. I was hung up in a crash (I didn't actually crash there, but it totally killed my momentum).
At that point I knew any chances of staying with the lead group were dashed. It is really frustrating to watch those guys ride off into the distance like that. I had managed to get into a small chase group of about seven riders but there is no way we were going to chase down forty guys…cycling doesn't work like that. There is a draft to be considered and 40 riders will always be faster than seven…end of story there.
A lot of the race favorites were caught out in crashes as well but what can you say? 22mm wide tires inflated to 140 psi doesn't exactly spell sure footedness now does it? It is kind of crabby that so much effort goes into this big little race to have it all unfold the way it did for many of us but that's racing as they say and as long as all else remains constant there is next year right? Poor Dominique Mayo crashed on Harbor Road and split his bike in half! Talk about a bad day. That has got to hurt the pockets.
Arthur Pitcher, one of the pre-race favorites was, as he told me, "used as a speed bump" so I guess my day could have been worse…or what about "Planet Garth" crashing out of the lead with only a few corners left in the race…that is a bummer because he is leaving the Island soon and I'm sure he would have like to have done well…duh!
What about Winners Edge! A sweep of the podium! Wayne Scott took a huge win narrowly edging out team mates Mark Hatherly and Darren "Shaky" Glasford at the line. That is awesome for those guys. I train with them sometimes at five in the morning so there is no doubt that they deserve that win. "Godfather" Greg Hopkins (team captain) must be so happy.
What is weird is that I was talking to a gentleman who shall remain unnamed and he told me that the Winners Edge Team this year was doing terrible. I told him that I disagree and to watch out for them come May 24th and voila! Hat Trick!
I especially want to congratulate my Tokio Millenium Re-insurance team mates Andrew Steel (4th), Alan Mooney (7th) and Randy "Chicken" Burgess (12th) for really good rides! Well done boys! I'll be sure to put the hurt on you guys at next week's race (the Bird Cage Criterium in Hamilton at 8am) just to remind you whose boss!
Speaking of awesome racing I truly believe that cycling is the closest, most competitive sport in Bermuda today. No question. The top 20 riders were separated by 30 seconds. Now that is tight racing… where else can you find that type of competitiveness? Look at the top three for example, they were separated by a second.
The Bermuda Day Half Marathon cannot hope to boast that type of competitiveness in my opinion! So next year we would like a bigger piece of the popularity pie thank you very much!
All in all I'd have to say that my first Sinclair Packwood Memorial Race was a disappointment but whatever you know? There can only be one winner and everyone else has to wait till next year for their shot! I'll be sure to get a better start and charge hard right from the get go! I'd like to say also that I'm glad that no one was seriously injured and we have to thank all of the volunteers and servicemen who helped to put on this great event.
A special thanks has also got to go out to Race Director Martin Bolton for working exceedingly hard to make sure that the program went smoothly and I'd have to say job well done!
Don't let me forget the crowds! They were AWESOME… braving the wind and rain like that to cheer us on was really something special and as a racer let me assure you that we appreciate it. Next year I promise to give you all a better show!
Editors Note: View the Cycle Race photos and results here, and our full coverage of May 24th here.
Read More About