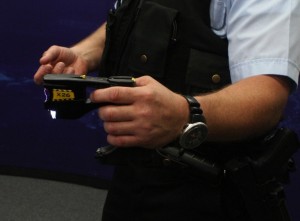 The Bermuda Police have used the taser for the first time after beginning to carry them in April 2010.
The Police say that around 4:10pm on Saturday May 29th, a Police officer used a Taser to assist in subduing a man who violently resisted arrest on Middle Road in Devonshire.
The police anticipate that the man, a 45 year old Devonshire resident, will make a court appearance in due course.
Saying this was the first deployment of a taser, the Police say that as a precaution they reviewed the use of Taser and say that all the protocols in place regarding the use of the device were followed, including aftercare which was given to the individual.
Approximately 1 in 3 Bermuda Police officers carry tasers, all having been previously trained and certified as firearm officers. In addition, the officers have received taser specific training. The electroshock weapon shoots electrical currents from up to 25 feet away which will cause the individual to immediately drop to the ground through temporary muscular incapacitation. The tasers all have an "anti felon identification" [AFID] system.
Read More About