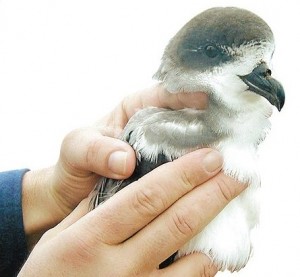 The Bermuda Monetary Authority [BMA] released its newest commemorative coin; the Bermuda Petrel (Cahow) Coin 2010.
The currency team at the BMA consulted with Dr. David Wingate, who is a wellknown local conservationist and ornithologist, on the image of the bird to be portrayed on the coin. The Bermuda Petrel, better known as the Cahow, is indigenous to Bermuda and one of the rarest seabirds on Earth. The species was thought extinct for approximately 300 years, rediscovered in the 1950′s, and in 2009 the first chick was hatched in almost 400 years on Nonsuch Island. The Cahows' eerie nocturnal cries are said to have stopped the early Spanish seafarers settling the islands out of superstition, as they thought the island were inhabited by devils.
Mr. Alan Cossar, Chairman of the Authority's Board of Directors, presented Dr. Wingate with one of the coins at BMA House. Mr. Cossar said:
The Authority is always delighted to issue new commemorative coins. We are also pleased to present this year's coin, the Bermuda Petrel Coin 2010 1oz Silver Proof, to Dr. Wingate in appreciation of his expert advice on the image of cahow in flight and recognition of the outstanding work he has done over a 40-year period to bring Bermuda's national bird back from the brink of extinction.
The BMA and Dr David Wingate had previously been embroiled in an issue over the BMA's currency release in 2009, specifically the $50 bill which featured the red-billed tropicbird instead of the local white-tailed tropicbird. Dr. Wingate noted the bird does not nest in Bermuda and has rarely been spotted on the island, and said he was "appalled" by the choice.
Monetary officials apologized for any "technical error", but said the red bill of the larger bird looks better against the pale yellow background than the orange of the local bird. The story was carried by various members of the international press with headlines such as "Bermuda $50 bill rejects local bird for a flashier beak."
The BMA's commemorative coin products are collectors' items. The maximum mintage for the Bermuda Petrel one ounce Silver Proof coin is 1,000 and the retail price is $85. The maximum mintage of the Bermuda Petrel 1/20 ounce Gold Proof is 500, and the retail price is $120 (subject to the market price of gold). Coins are available at the BMA Notes and Coins Exhibit, located at BMA House, 43 Victoria Street. For further information on the commemorative coins, contact the Currency team on telephone 295-5278, or via email at notesandcoins "at" bma.bm.
Read More About