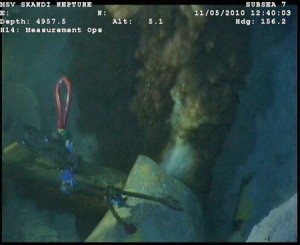 Dr Karl Aiken, a senior lecturer in the University of the West Indies' Life Sciences Department, says that the Gulf of Mexico spill disaster could affect Jamaica negatively, and also echoed other researchers in saying the spill may pass by Bermuda.
The Jamaica Gleaner reports that Dr Aiken said "Once it hits this area, we're going to have problems.The issue is, the reef fish stock around Jamaica is severely overfished. In fact, it's on the verge of collapse, especially on the north coast. The reef fishery supports 85 per cent of the fishing industry of Jamaica. Actually, it's closer to 90 per cent. Once it crosses the Florida Keys, it's going to latch on and be caught in the gulf stream at its fastest point. By September or October, it could get as far as Bermuda".
They also report Diana McCaulay, CEO of the Jamaica Environment Trust, expressed concerns about their marine life pointing out that "Many types of fish and marine mammals migrate long distances. Our fish could be coming from quite far away."
Environment Minister Glenn Blakeney said that "the threat to Bermuda has to be considered from two very different perspectives. On the one hand there is the threat related to the defacing of beaches by tar balls.The other concern, probably the more serious for us in Bermuda, has to do with the toxicity of oil and of the chemical dispersal agents being used in large quantity." Minister Blakeney also said that "There is also little to no risk of fresh oil reaching Bermuda."
The Gulf of Mexico oil spill disaster is now considered the largest offshore spill in U.S. history. The spill stems from a sea floor oil gusher that followed the April 20, 2010 Deepwater Horizon drilling rig explosion, which killed 11 platform workers.
The gusher, estimated to be flowing at 12,000 to 100,000 barrels (500,000 to 4,200,000 US gallons; 1,900,000 to 16,000,000 litres) per day, originates from a deepwater wellhead 5,000 feet below the ocean surface. The photo above is a screencap taken from the actual video of the oil gushing underwater.
Read More About
Category: All, Environment, News