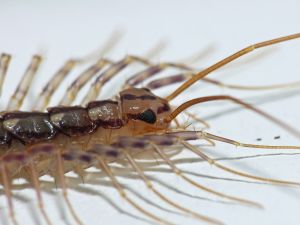 A Facebook group asking whether a St David's centipede can get more Facebook friends then Premier Dr Ewart Brown has burst on the scene, getting in excess of 100 fans in its first 24 hours.
The group, which stresses it is just for fun and not meant as a political bashing forum, says the "aim of this group is to see if a regular, normal St. David's centipede can get more friends on Facebook than our Premier: Dr. The Hon. Ewart F. Brown, JP, MP."
They continue on and say that "This group has no political affilliation and is open to everyone. It is not a PLP, UPB, or BDA bashing group so please go to one of the many other sites if you want to vent."
Dr. Brown, one of the most popular Bermudians on Facebook, has 3,883 "friends" as of this writing. No stranger to Facebook fun himself, the Premier ran a guessing contest in April 2010, in which he donated $500 to a charity chosen by a person who correctly guessed his location.
Already a number of rather clever photoshops have been posted in this new group featuring the centipede on a motorbike, hammock, beach, sidewalk and car. Should you wish to join in the goal of having a St David's centipede get more Facebook friends then our Premier, you can join the group here.
Read More About