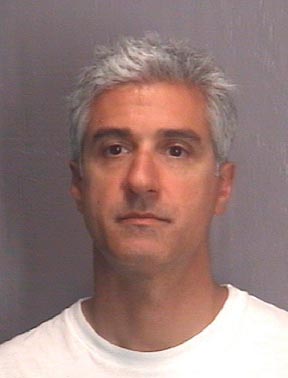 An American who is alleged to have forged documents to falsely claim he had a Bermuda bank account with $14 million dollars in it while claiming to be related to royalty in Belgium, pleaded not guilty to all charges in an American court yesterday [June 30] and was denied bail.
Guy de Chimay, 47, appeared in New York State Supreme Court in Manhattan after being extradited from North Carolina, where he was arrested June 11 on a New York warrant.
Mr Chimay was charged with offences including grand larceny, attempted grand larceny, forgery, criminal possession of a forged instrument and a felony violation of general business law. If convicted of the top count, he faces up to 25 years in prison.
The Manhattan Assistant District Attorney asked for Mr Chimay to be held without bail and the Judge agreed, saying Mr Chimay "appears to have the ability to create false documents," and that he wasn't sure bail would ensure his return.
It is alleged that as late as December 2009, Mr. Chimay sought a multi-million dollar bank loan on the basis of false representations that he had $14 million in liquid assets in a Bermuda bank account, with the American officials saying he "brazenly falsified bank statements." The officials further say that the Bermuda account balance was actually zero, and that Mr Chimay also solicited investments in the region of $6 million, while claiming to be related to the current head of the Belgian Chimay royal family, the Prince de Chimay.
At the hearing lawyers from the Securities and Exchange Commission [SEC], who filed a civil fraud complaint against Mr Chimay earlier this month, showed up to slap him with their own subpoenas and injunctions in relation to their civil suit.
The full legal document from the SEC is here [13 page PDF]. As it relates specifically to Bermuda, the document says:
In order to facilitate, and then cover-up, the fraud, Chimay brazenly falsified bank statements to lull investors into believing he had tens of millions of dollars at his disposal, most of it purportedly tied up offshore in Bermuda. As recently as December 2009, Defendant Chimay sought a multi-million dollar loan from Wachovia on the basis of false representations that he had $14 million in liquid assets in a Bermuda bank account. In reality, the account balance was zero.
The complaint also goes on to say that:
Investor B invested $2 million in the BLF in October 2008 by wiring his investment to an account at Butterfield Bank in Bermuda. Among other things, Investor B's funds were used to fund a $200,000 personal check made out to Defendant Chimay.
The American officials have extended their thanks to the Bermuda Monetary Authority for their assistance in this case.
Read More About