Many Bermudians will recall Dejon Simmons, who was involved in a horrific traffic accident on July 24, 2004 in which his bike caught fire and almost burned him alive. The then 16-year-old received third degree burns to over 90% percent of his body, and was not expected to live. Dejon spent over a year in hospital, including six months in a coma, and at one stage was given less than a 5% chance of survival.
Dejon beat all the odds, and survived ending up with severe scars over the majority of his body. He says when he woke up he initially thought himself to be a "monster" and regretted he lived through the accident. Dejon has since endured dozens of operations, and had to fight through physical issues to relearn basic skills.
Dejon quickly becaming an inspirational figure to many following his story being told in a documentary on local TV, which was widely watched and discussed amongst locals. Using his story to try and instill the importance of road safety in others, he was lauded by many in the community and voted Bermuda Sun's Man of the Year in 2005
Following his acccident, he operated a website 'Heavenssoldier' which grew in popularity to the point it frequently crashed under the traffic load.
Almost 6 years after the accident and despite all the obstacles thrown in his way, Dejon continues to impress. In addition to becoming a skilled designer and launching his own graphic design firm FuseDesigns, Dejon became a first time father this year, and will proudly tell anyone his infant son Kali is his pride and joy.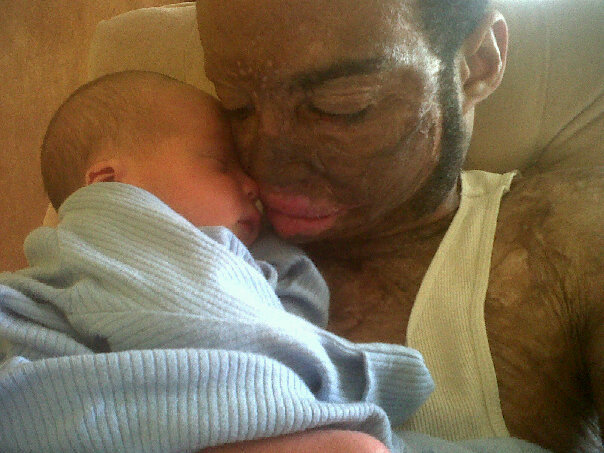 Dejon recently launched a blog 'LifeandFlow' and it contains samples of his artwork, poetry and in what is easily the highlight; Dejon is blogging about his life, thoughts and transition he has been, and is still going through, since his accident.
Exceprts from his writings below:
A world built on materialism, rather than the quality of a soul. Everyone wants something that looks good, superior, whether it be a car, a house, and pieces of clothing, jewelry, or in some cases even relationships. Where do I fit in a materialistic world when even the face I conceal behind stands out like a sore thumb?
Kali Eugene Simons is my very own blessing, my miracle and savior. After my accident in 2004 the doctors told my mother I will never be able have kids and here I am with my son. I worry about him just like any other parents, and fear for the worst, but with my presence being away from him also brings forth my greatest fear since my accident. Over the past six years I have seen kids scream, cry, and run away from my appearance in such frantic manner my greatest fear is that my very own son becomes scared of me. It has been on my head since the day of his conception.
The writings are often sad, sometimes inspirational, but always interesting. Stop by and check out 'LifeandFlow'.
Update: Part of the Dejon's documentary is below:
Read More About
Category: Accidents and fires, All, News