Keep Bermuda Beautiful (KBB) kicked off its campaign to reduce the impact of cigarette butt litter within the City of Hamilton, with July 2nd being proclaimed Cigarette Litter Prevention Day by Charles Gosling, Mayor of the City of Hamilton. At Friday night Happy Hour hosted by the Fairmont Hamilton Princess, volunteers from the BePro group handed out KBB-branded pocket ashtrays to the crowd.
KBB is an affiliate member of Keep America Beautiful and is implementing their Cigarette Litter Prevention Programme. The Programme's strategic approach involves all stakeholders in the cigarette litter problem, including businesses, local government, law enforcement, community organizations and, importantly, smokers themselves. The Mayor of the City of Hamilton and other community leaders have been increasingly seeking solutions to smoking related litter.
KBB's Cigarette Litter Prevention Programme addresses the issue by integrating four proven approaches: encouraging enforcement of litter laws that include cigarette litter, raising awareness about the issue using public service messages, placing ash receptacles at transition points such as entrances to buildings, and distributing pocket ashtrays to adult smokers. In 2008, nearly 200 communities in the US reported an average 46% reduction in littered butts as a result of implementing the programme.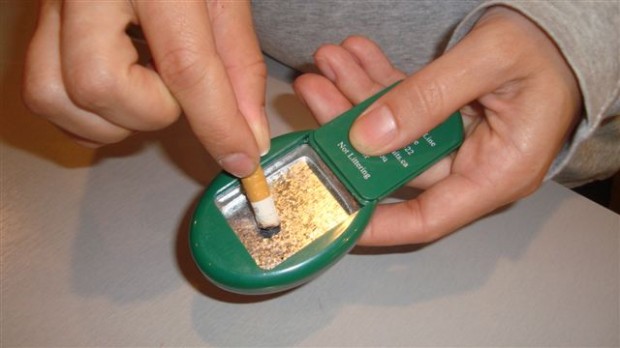 "The Cigarette Litter Prevention Programme has been proven effective in the US and other jurisdictions. Simple actions like distributing pocket ashtrays and installing ash receptacles have made a big difference in decreasing litter and ultimately keeping cities beautiful," said KBB Executive Director, Anne Hyde. "By raising awareness, we expect similar reductions here in the City of Hamilton. The programme will expand each year to eventually include all of Bermuda."
Local businesses and organizations are also supporting the effort. KBB expects to distribute 5,000 FREE pocket ashtrays during this year's campaign through shops that sell cigarettes within the City of Hamilton. Cigarette butts, matches, lighters and cigarette packaging account for 25% of littered items in Bermuda, according to the Bermuda Roadside Litter Survey conducted last summer. For more facts about cigarette litter, visit www.kbb.bm.
Keep Bermuda Beautiful is one of Bermuda's oldest environmental charities. It is a volunteer- based community action and education organization. Keep Bermuda Beautiful, locally known as KBB, forms public-private partnerships and programmes that engage individuals to take greater responsibility in reducing waste and eliminating litter to improve Bermuda's environments, both on land and in the ocean
Read More About
Category: All, Environment