[Updated] Traffic is presently barred from entry, and residents are being blocked from returning home in the Glebe Road, Pembroke area as Police are presently in the process of conducting apartment search[es] for a man whom the Police have referred to as a "person of interest" and a "fugitive from justice".
The Police have not confirmed the exact identity of the individual they seek, however speculation amongst residents on scene is rampant that it may be the escaped prisoner they are searching for. As of this writing [6:35pm] there are several Police officers on scene, including armed officers. The exact area being searched is the area by Yardie Kitchen.
Police would like to apologize to the residents of the area, and thank them for their co-operation.
Update 7:00pm: Police confirm they are looking for Alvone Maybury, who escaped from prison officer's custody on July 13th.
Update 7:30pm: Police search continues, there are approximately 20 officers on the scene, the canine unit, armed officers etc.
Update 8:20pm: Police [all but one vehicle] leave the scene, we counted eight Police vehicles in total [marked and unmarked]. Residents are relieved to be able to go back home, many had been prevented for a number of hours.
Update 9:39pm: Official information from the Police:
Around 4pm today (Friday), Police attended a residence on The Glebe Road in Pembroke as they continued their search for Alone Maybury. Officers canvassed the area with negative results. Police continue to follow all leads and are reminding the public that providing shelter and resources to Maybury is a crime punishable under the law.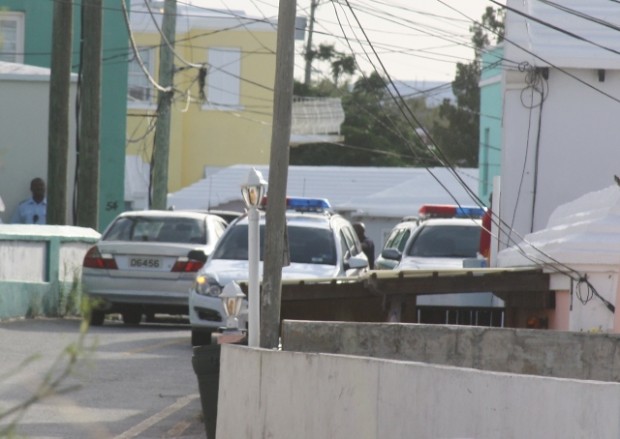 Read More About