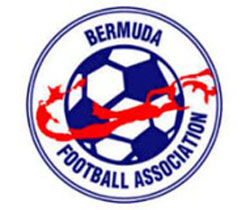 Bermuda's U17 youth football team hopes of advancing to the next round of the World Cup qualifier were dashed today, when they lost 3-2 to St. Kitts & Nevis in their second of three games played in Group E in Trinidad & Tobago.
Bermuda got off to a flying start, as only 3 minutes into the match, Jair Minors gave the team a 1-0 lead. In the 21st minute, St. Kitts scored the equalizer, and 24 minutes later St. Kitts converted from the penalty spot, giving them a 2-1 lead at half-time.
In the second half, St. Kitts scored their third goal of the match, as they went up 3-1 putting the game out of reach for the local team. Bermuda continued to press forward, and in the 90th minute, Zeiko Lewis scored his second goal of the tournament, cutting the lead by one goal 3-2.
Defender Jevon Swan was taken to the hospital as he was tackled in the second-half and damaged his left ankle. He will be receiving x-rays for precautionary measures, and he will most likely he will be out of the final game against Trinidad & Tobago.
The starting line-up consisted of: Dale Eve, Zeon Robinson, Shakhai Trott, Jevon Swan, Mauriq Hill, Shakeil Burrow, Jair Minors, Tre Ming, Zeiko Lewis, Jonte Smith and Quintonio Lema
After the game Head Coach Devarr Boyles said:
I'm disappointed with the outcome of today's match, not only me, but our players as well. A defensive error caused the first goal for St. Kitts, and then another error in the first half caused the second goal. This time the referee awarded St. Kitts a penalty. Emotionally, the players were drained going into half – time. However, they played better but came up short once again. We regrouped and started to penetrate more as the ball was being moved around into the open space. After being down emotionally in the first-half we lifted our spirits and played better. The players played extremely well, however, it shows we need more international matches in order to prepare ourselves for international matches. By playing more games, this will help us not just physically but mentally against the opposing team(s).
Bermuda will now play their third and final match against host country Trinidad & Tobago, at the Marvin Lee Stadium, starting 5pm.
Read More About