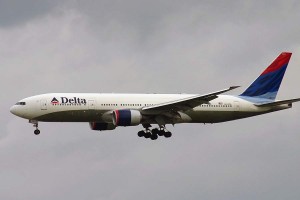 Yesterday morning [Sept 14] a Delta flight traveling from the US to Nigeria with over 200 people onboard diverted to Bermuda due to a female passenger requiring urgent medical care.
The flight landed, an awaiting ambulance transported the passenger to King Edward Memorial Hospital, and the flight then left Bermuda around 2 hours later.
New York Centre Air Traffic Control informed Bermuda officials that Delta flight 54, a Boeing 777, with 255 persons on board was diverting to Bermuda with a medical emergency. With the tower unmanned, Bermuda Radio initiated the airport emergency call out page and the aircraft landed safely at approximately 4:30am.
An awaiting ambulance transferred the 36-year-old female passenger to King Edward VII Memorial Hospital, and at 6:43am Delta 54 was airborne to continue her flight from Atlanta, Georgia to Lagos, Nigeria.
Read More About