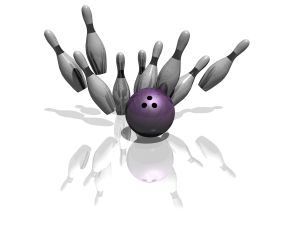 Two of the island's top bowlers will be flying the flag for Bermuda at the 46th Bowling QUIBICA/AMF World Cup in Bowling de Provence in Toulon, France, from October 15th – 24th, in which over 80 countries will be represented.
This tournament is held annually around the world, with 1 woman and 1 man represented from each country. Bermuda will be represented by Damien Matthews, who captured a Bronze medal at the CAC Games held in Puerto Rico this summer and June Dill, who was Bermuda's top female finisher in the CAC Games.
This is the first time that Mr. Matthews will participate in the prestigous event, however Ms. Dill previously represented Bermuda in Hermosillo and Egypt.
Bobbie Jones President of the Bermuda Bowling Federation said "The preliminaries consist of 4 blocks of 5 games with the top 24 men and women after 20 games advancing to the Intermediate round. The top 24 players bowl another 6 games with pinfall total from the preliminaries being carried forward. The top 8 men and the top 8 women after 28 games will bowl another 8-game block to determine the top 3 men and the top 3 women who will determine the champions in the stepladder finals."
Read More About