Comedy Hypnotist Fernandez takes to the City Hall Stage for two dynamic and action packed shows on Friday November 12th & Saturday 13th. Metropolitan Models will perform as an opening act, and the host will be the hilarious and always cutting edge Comedian Mark Anderson a.k.a. 'Sybil'. Unlike the previous this event is rated M for Mature audiences only.
Born in Havana, Cuba, Fernandez learned his skills from his father, himself a recognized professional stage-hypnotist. His first stage appearance was as his father's assistant at the age of four, but it wasn't until his teens that Fernandez devoted himself to these mysterious realms. With the aid of his father, Fernandez learned the fundamentals of hypnosis and how to hold any audience spellbound by refining his stage technique.
As his hypnosis career progressed, Fernandez began to appear on stage with such internationally recognized stars such as Liberace, Jerry Lewis, Bob Hope, John Candy and Dan Ackroyd.
Just this past summer Fernandez sailed the seas aboard the Dawn Princess which visited the port of Bermuda several times. Fernandez says that he truly enjoys visiting Bermuda having first worked here in 1998 at the Clay House Inn. He says that the island and its people are warm and welcoming. He is glad to return to the City Hall for two shows which he promises some new surprises together with some favorite crowd pleasing skits.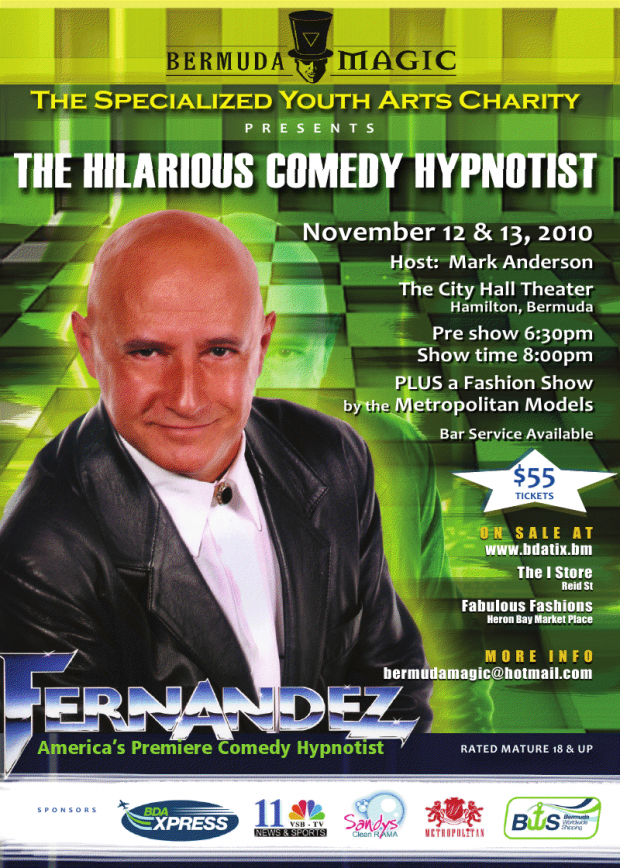 The Specialized Youth Arts Charity 679 and Bermuda Magic are your hosts for the two night engagement at the City Hall Theater. It will be an evening of mature comedy to be enjoyed by all. The evening will commence with a pre-show happy hour where our guests will be entertained by the music of DJ I-Pod who will put you in the mature mood whilst you enjoy the full bar accompanied by frozen Island Oasis smoothies – a first for City Hall.
Raffles will be on sale and lots of fun promotional prizes will be available courtesy of our friends from Goslings and Pitt & Company Spirit brands. The raffle draw will take place prior to the start of the show during the happy hour which starts at 6:30pm.
The fifteen Metropolitan Models (Metro Girls and Guys) plan to take the audience to a place they will never forget. They have planned a special "Taunt and Tease" fashion show displaying male undergear from the Metropolitan boutique, Mens and Ladies fashion from Toxic Rose, Jazzy's Boutique, 27th Century Boutique, The Edge and Shannon's Boutique. The models will commence their show in the lobby during the happy hour. Patrons will get an up close look at the fashions and be able to talk and mingle with the Models. Metropolitan's male undergear will also be on sale at the event in the lobby at special event pricing. Cash, debit and credit cards are welcomed.
Performances will take place at the City Hall Theatre on Friday 12th November at 8pm, Saturday 13th at 8pm. Tickets for Hypnotist Fernandez are available at www.bdatix.bm, The iStore, All Wrapped Up and Fabulous Fashions. Tickets are $55 (inclusive of fees), also available at the door. For additional information and questions please email bermudamagic@hotmail.com. Visit them on Facebook, or visit their web site www.bermudamagic.com
Category: All, Entertainment