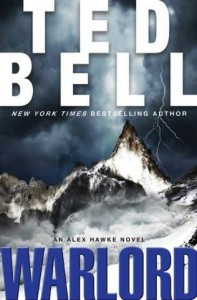 Bermuda-based superspy Alex Hawke is dragged out of self-imposed retirement — and a deep depression — by Prince Charles and goes back into the field again in the new espionage bestseller  "Warlord" from longtime local visitor Ted Bell.
Mr. Bell, a retired Madison Avenue advertising executive who has been vacationing in Bermuda for more than 30 years, launched his series about the swashbuckling secret agent with "Hawke" in 2003. Mr. Bell decided mid-Atlantic Bermuda would make the ideal base of operations for his freelance adventurer given Hawke's mixed Anglo-American parentage and the island features in most of the novels.
His fast-paced thrillers could best be described as equal parts Ian Fleming and Robert Ludlum with just a dash of wry.
"Warlord", the fifth novel in the Hawke series, was published in September and is climbing international bestseller lists like its predecessors.
"Prior to his last mission, British spy Alex Hawke met Russian artist Anastasia Korsakova on a Bermuda beach while on R&R," says one  reviewer. " … While he completed the mission, his beloved Anastasia dies. Almost a year later, Hawke remains depressed with his only companion a bottle of rum that rarely numbs the pain inside his heart. He wants nothing to do with the espionage game until his Royal friend Prince Charles begs him to help as someone threatens to assassinate the Royal family. Normally one to ignore such intimidation, Charles explains that somehow the culprit left a tome with a signature identical to the one belonging to his late uncle, Lord Mountbatten, who was murdered three decades ago. Hawke leaves Bermuda for London to begin his search for the mysterious killer.
"The latest Hawke espionage thriller is an exhilarating tale  … 'Warlord'  is a fabulous action-packed entry, but it is the fight within the hero's soul that makes it special."
"Warlord" opens with a lush description of the spy's Bermuda home, a paradisical setting the traumatised secret agent is now oblivious to: "Had Alex Hawke bothered to notice the view, he would have found the riot of purple bougainvillea climbing over the low limestone wall, and the turquoise sea below and beyond that wall, ruffled with whitecaps, typically lovely for this time of year in Bermuda," the book begins.
"But he seldom noticed such things anymore. His house was a long-abandoned sugar mill, with a crooked chimney on the domed roof that looked like the spout on a teakettle. The whitewashed stone mill house stood against a green havoc of banana trees overlooking the Atlantic. You could hear the waves crashing against jagged rocks some thirty feet below. Familiar Bermuda seabirds were darting about overhead, click-clicking Petrels, swooping long-tails and Comorants and Frigatebirds."
The other books in the Hawke series are "Assassin" (2004), "Pirate" (2005), "Spy" (2006) and "Tsar" (2008).
Read More About
Category: All