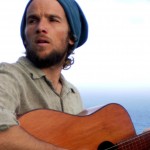 It's a case of "Go East Young Man" for Bermudian reggae sensation Mishka. The Bermudian musician, who has fused melodic old-school reggae with '60s-era folk music, is barnstorming the Asian country this week, playing four shows in four different Japanese cities between Tuesday [Nov. 16] and Sunday, during a brief tour to promote his latest album.
Released in March, 2010, the 13-track "Talk About" is a follow-up to last year's hugely popular "Above The Bones", which debuted at number one in the Billboard reggae chart and won Mishka the 2009 Best New Artist iTunes award.
Setting the tone for the self-described "album of movement," the first single "Bittersweet" started out as a studio experiment before veering off in a musical direction which surprised even its composer.
"When I brought the song to the band it was extremely raw — just a few chords and a couple lyrics played at a modest tempo," says Mishka.  "But as we started jamming on it, it started to move into an up-tempo track like I've never recorded before — a place, musically, that is brand new to me."
Mishka Frith is the brother of Bermudian songstress Heather Nova and an internationally acclaimed performer and recording artist in his own right. "Talk About" is his fourth album and the second release for actor-turned-music promoter Matthew McConaughey's j. k. livin label.
"
Read More About
Category: All, Entertainment, Music