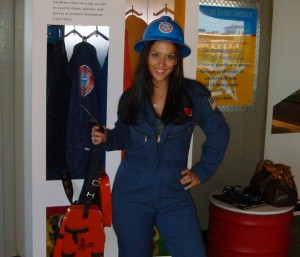 A Marsh property insurance broker was among a group of Bermudians who participated in an insurance industry educational and networking tour in the United States hosted by Bermuda Under 40s Re/insurance Group.
Kara Gibbons, who joined Bowring Marsh in 2005, spent three days with other tour participants in New York attending sessions on a wide range of insurance topics from insuring jewellery to sophisticated catastrophe modelling. Participants also travelled to Galveston, Texas, to visit the Ocean Star Offshore Drilling Rig & Museum, where they learned firsthand about risks involved in deepwater drilling.
"I'm very pleased that Kara enjoyed her experience in the United States, which was a great opportunity for her," said Chris Reeves, a Managing Director of Marsh and President and Chief Operating Officer of Bowring Marsh (Bermuda) Ltd, who offered Ms. Gibbons the chance to participate.
This was the third trip hosted by Bermuda Under 40s Re/insurance Group. Participation has grown significantly over the past few years, and nearly all participants this year were Bermudian.
"The great thing about this latest tour was that it showed the calibre of Bermudians in the industry, and that their employers are truly committed to seeing these rising stars advance in their careers," said Julia Mather, Social Officer and Tour Leader for Bermuda Under 40s.
Read More About