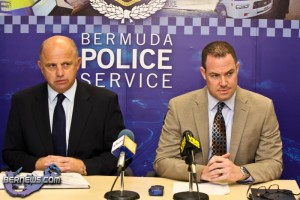 At a press conference held yesterday [Nov 29] the Bermuda Police stated that the shooting victims were riding a black Qingqi motorcycle bearing the number BS047.
The shooting, which occurred on Saturday [Nov 27] has tragically left one man paralyzed, and another in the Intensive Care Unit of King Edward Memorial Hospital.
The Police say that indications are that a total of ten shots were fired at the scene, with both victims receiving multiple injuries. They were found in the Mission Lane, Pembroke area at approximately 5:30am and rushed to hospital via ambulance.
Assistant Commissioner of Police David Mirfield said "The public must trust the Police Service to bring all offenders to justice and it is only with the continued cooperation of the community to prevent violence and assist the Police in doing so, that this will be achieved."
This motorcycle is a black Qingqi motorcycle licence #BS047, and was stolen from Butterfield & Vallis, on Orange Valley Road, Devonshire between August 8-9 of this year.
The Police are appealing for any information on the movements of this bike and the victims prior to the shooting, as well as any information about the incident whatsoever. Anyone with any information is asked to contact 295-0011 or the independent confidential Crime Stoppers Bermuda hotline on 800-8477.
Read More About