This afternoon [Nov 1] Colonel David Burch was sworn in at Government House, taking on the position of Minister of National Security. Colonel Burch had previously held the portfolio of Labour, Immigration and Public Safety under former Premier Dr Ewart Brown, having been appointed after the 2007 election.
Colonel Burch will now add border control elements of Customs to his portfolio and retains the Police and the Bermuda Regiment. "Combining these critical functions under this experienced Minister will result in a stronger interdictive force against the scourge of drugs and guns in the community. This flows from the Gang Task Force joint initiative and will strengthen the efforts of our uniformed, front-line services," the Premier indicated.
Colonel Burch attended West End Primary School, Southampton Glebe School and Sandy's Secondary School. He is also a product of two of Britain's best military schools: The Royal Military Academy, Sandhurst, and The School of Infantry, Warminster.
Although widely called "Colonel Burch" or "The Colonel", he is technically a Lieutenant Colonel, and is a retired Commanding Officer of The Bermuda Regiment after 20 years of military service. He attended training and attachments to fellow military units in the United Kingdom, Canada, Belize, Jamaica and the United States and was awarded the Efficiency Decoration in 1990 for outstanding military service, and the First Clasp in 1996. Colonel Burch was honoured for his military service by Her Majesty, The Queen in the 1998 Queen's Birthday Honours, being awarded the Officer of the Most Excellent Order of the British Empire, Military Division.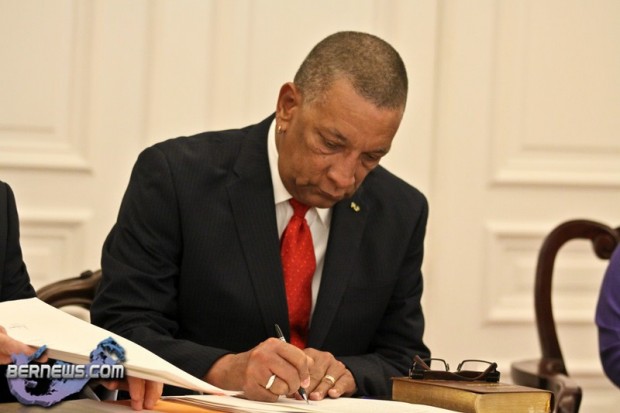 He has an extensive background in underwriting property and casualty risks, with specific emphasis on computerized reporting having spent 20 years in the International Company sector as a Reinsurance Underwriting Manager with several Fortune 500 companies.
His first Cabinet appointment saw him serve as the Government Leader in the Senate and Minister Without Portfolio. Following a short stint as the Minister Without Portfolio, he was made Minister of Housing. In August 2005, Colonel Burch was appointed as the Quango Consultant to the Ministry of Works and Engineering and Housing to spear-head the amalgamation of the West End Development Corporation, the Bermuda Land Development Corporation and the Bermuda Housing Corporation. In October 2005, Colonel Burch assumed the appointment as the Minister of Works and Engineering and Housing.
One of the most outspoken politicians, Colonel Burch is seen as a controversial figure, however he is also seen by many as a very effective politician.
Colonel Burch, unlike the other politicians, was standing at the back of the room during the swearing in ceremony today. When his name was called, those seated at the front looked around confused and then the side door swung open and Colonel Burch marched through, causing Governor Sir Richard Gozney and others much amusement.
Below Minister Burch is sworn into Cabinet:
You can view more videos/bios of the 2010 Cabinet appointees by clicking here.
Read More About