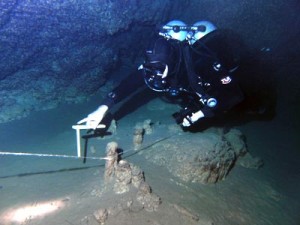 A Canadian scientist described as "something of a scuba-diving cowboy" has conducted groundbreaking research in Bermuda's underwater cave system which may help researchers better understand the phenomenom of climate change.
Pete Van Hengstum, a recently qualified Earth Sciences Ph.D.,  told Dalhousie University's on-line newspaper today (Dec. 14) about  his pioneering work on sea level changes during different geological periods conducted in Bermuda's labyrinth of submerged caves and passages.
"Underwater caves are interesting because only recently have advances in scuba diving technologies and protocols allowed scientists to safely explore and study these environments," said Dr. van Hengstum, 28, who has just completed his PhD at the Nova Scotia university.  "Although most researchers focus on the unique ecosystems and fauna in underwater caves, I suspected information about climate and sea levels was preserved in the underwater caves that no one really knew about before."
Dr. van Hengstum — pictured above measuring sediment in Bermuda's Green Bay cave system – has since left Dalhousie to embark on a Natural Sciences and Engineering Research Council of Canada (NSERC) Post-doctoral Fellowship at Woods Hole Oceanographic Institute in Woods Hole, Massachusetts.
He said the "invaluable" help and support he received from Bermudians and Bermuda instititution while he was on the island helped him to complete his post-graduate degree in just 26 months.
"Three main factors allowed him to finish his PhD in such a timely fashion," reports Dal News. "First, the people in Bermuda were exceptionally supportive of his research, especially his scuba-diving friends Bruce Williams and Gil Nolan, along with faculty at the Bermuda Aquarium, Museum, and Zoo and Bermuda Zoological Society. The anecdotal observations of local divers provide 'an invaluable resource that cannot be ignored when exploring underwater caves' …"
Read More About
Category: All, Environment