Premier Paula Cox received a paper on accessibility for the disabled in Bermuda yesterday (Dec.15) morning from Minister of Health Zane DeSilva.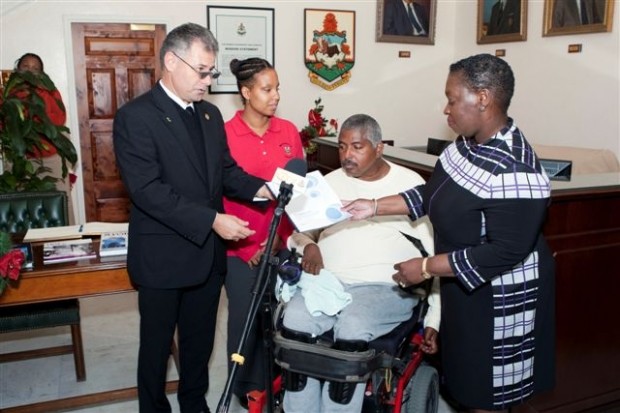 The paper, entitled "Through My Eyes", was written by young Bermudian, Kristina Bean, who is legally blind, and explores the issue of accessibility in the City of Hamilton for those with disabilities, using Toronto, Canada as a comparison city, and is based on Ms Bean's personal experience.
At the paper presentation at Cabinet today the Premier said: "I applaud Ms Bean for endeavoring to create this paper and am pleased to receive it on behalf of the Government of Bermuda.
"I also wish to thank my colleague the Mr. De Silva for bringing it to my attention as accessibility in Bermuda is truly a cross-ministerial issue in which I wish to involve all of my fellow Ministers. Thank you both for your efforts to make Bermuda accessible to all."
Earlier today Ms Bean had discussed her paper with Minister DeSilva, who says it has made him more aware of the need to improve accessibility for those with disabilities.
Minister De Silva said: "It has been a pleasure to meet with such a bright young lady today and see her becoming actively involved in impacting Bermuda's future in terms of accessibility.
"She has given us here at the Ministry much to consider with regard to improving accessibility for all and I am enthused and inspired to help see her proposed improvements come into fruition."
In a bid to experience what Hamilton is like for a visually impaired individual, Minister De Silva donned two pairs of specially-made glasses prior to the presentation of the paper – one which gave him tunnel vision and the other which gave him peripheral vision.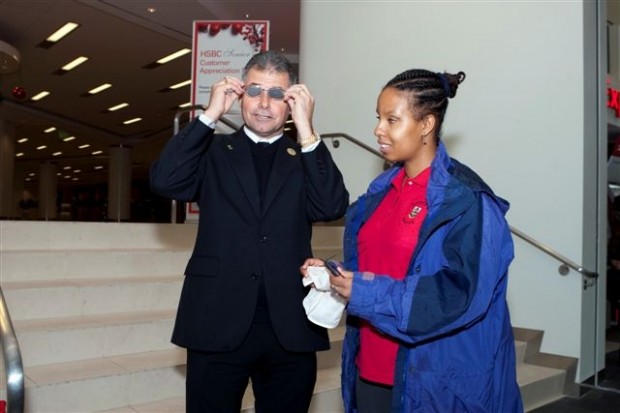 Ms Bean led the Minister around Hamilton and to various locations, including key spots that present challenges for persons with visual impairments so he could experience these difficulties firsthand.
The walking route terminated at Cabinet at which point the Premier received the paper and met with Ms Bean to briefly discuss her findings.
Ms Bean, who works as an accessibility officer at the National Office for Seniors & the Physically Challenged said: "Bermuda has come a long way in terms of making our country more accessible especially in The City of Hamilton. There are better sidewalks, automated elevators, and beeping street lights. However we still have some ways to go.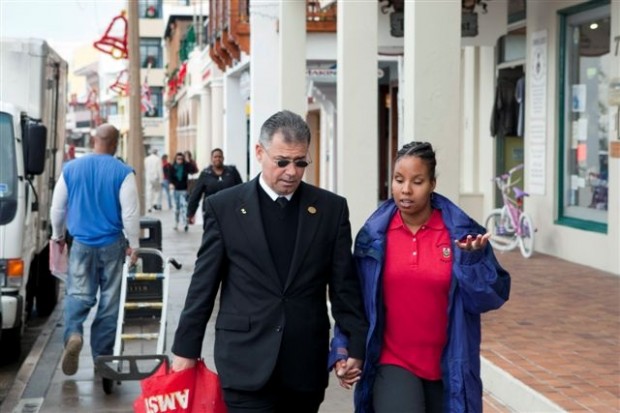 "The title for my paper came from the importance of making a difference. I feel that in order for change to come, one must see the difficulties of a person with a disability from their perspective. 'Through My Eyes' seemed to be a fitting title considering the content of my paper."
She added: "Minister De Silva, thank you on behalf of the people who are blind or visually impaired in Bermuda for agreeing to spend some time in 'our' world."
The full 26-page paper is below, click 'Full Screen' for greater clarity:
Read More About