From Friday December 3rd to Sunday December 5th, young swimmers from the Dolphin, Sharks, and Harbour Swim Clubs braved the cold weather, high winds and rain to participate in the Mailboxes Unlimited Winter Age Group Championships.
Ben Smith, Aquatics Manager, National Swim Coach and Sharks swim Coach, stated, "The Winter age groups were a huge success for Bermuda Swimming. The first half of the season has seen some very good performances and this meet was no exception. Most of the swimmers from all the clubs were able to produce personal best times and many of them were able to have multiple personal bests.
"This meet was comprised of mostly distance events and our swimmers showed a very good level of fitness over the 3 days. From a Sharks stand point I was very pleased with our clubs results in taking 6 of the 10 age group categories. 7 year old Brynn Telenko showed great promise in the 8 and under girl's category and was rewarded by winning her age group. Vaughn Rowse has been training very hard from the beginning of the season and was very impressive with his 5 personal bests in his 5 events.
"Nick Patterson continued his strong form by breaking his own record in the 200 butterfly. For me the highlight of the meet was from Tyler Smith of Harbour swim club when he shattered the 1500 free record on Friday night. He set a very strong pace from the first 50 and in the last 500 he even seemed to get strong and faster. Great job to all of the swimmers that participated. I am looking forward to our Christmas training camp where we will be training hard in preparation for the New Year."
Somer Froud is pictured below, photo courtesy of Doug Patterson: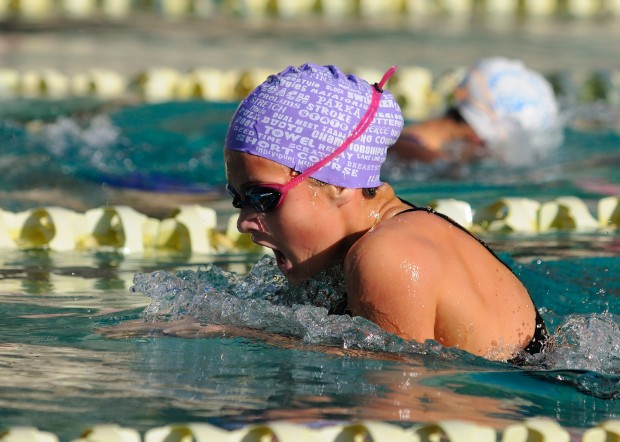 National Swimming Coach and Harbour Swim Coach, Richard Goodwin, added: "The Harbour Club highlight of the meet was on the first night (Friday)when Tyler Smith, competing in the 11 & 12 year old boys age group; swam to a new age group record in the 1,500 metres freestyle event. "Tyler has been training very hard and I am happy to see him rewarded with this record after all of his effort over the past three months. Distance is his specialty, as he maintains a continuous, non-stop pace over the entire race". Smith took almost a full minute off of the previous record, setting a new mark of 19:31.08".
The meet was geared towards the longer distances and it was great to see the swimmers competing in these events, many for the first time. The weather was hardly conducive to swimming, so it was a testament to them all to turn up and compete. That they also were able to swim their races and set new personal bests displays their commitment to the sport.
Dolphin Swim Team Manager, Trevor Cowan reported: "Our swimmers persevered through some rather unpleasant weather conditions to post solid results in the 2010 Mailboxes Unlimited Winter Age Group Championships. 38 athletes competed in 150 individual events resulting in 3 age group champions, 77 medals, 35 ribbons and 81 personal bests with an average improvement of 15.36 sec each.
Madeline Moore put in a commanding performance with first place finishes in all five of her events to win the girls 9 & 10 age group".
The 9 & 10 boys excelled, with five Dolphin boys coming in the top six – Evan Farrow, Josh Irvine, Ryan Stocek, Jude Moseley and Jason Buechel.
We saw two exhilarating races between Evan Farrow and Josh Irvine, first in the 100m freestyle where they finished 1st & 2nd with a time difference of only 0.26sec (both achieved "A" times) and then again in the 100m backstroke where they finished 2nd & 3rd with a time difference of only 0.22 sec.
Victoria Davis lost her goggles after her first 100m into the 800m freestyle on Friday night but she kept on swimming.
Madelyn Moore (Girls 9&10), Evan Farrow (Boys 9&10), and Miles Cave (Boys 13&14) who all won their respective Age Groups.
Read More About