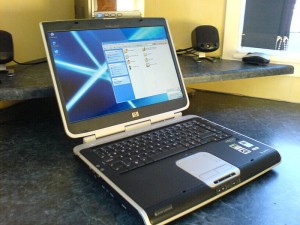 An initiative aimed at encouraging Bermuda's youth to pursue careers in information technology (IT) is being relaunched next year, Business Development Minister Patrice Minors told the House of Assembly on Friday [Dec 3].
The Minister said Government, in partnership with private sector technology companies, is continuing the Technology Leadership Forum Internship Programme in 2011.
Those students interested in signing on can attend an information session at the Royal Bermuda Yacht Club from 5.30 pm – 7.30 pm on Monday, December 20.
Minister Minors said as demand for IT specialists continues to rise in Bermuda, both Government and private industry understood the need to identify and train competent young Bermudians who could fill these jobs in the local workforce.
Her full statement follows:
I rise before this House to inform the Honourable Members about a continuing initiative that aids in the development of our youth into digital leaders of the future. Through the Technology Leadership Forum (TLF), a leadership initiative designed by the Department of E-Commerce, in partnership with private sector technology industry companies, the next generation of ICT professionals are being prepared. The TLF was founded because of an identified need for qualified local ICT talent in Bermuda.

This group, made up of key influencers and leaders in the technology industry in Bermuda, came together with the objectives of encouraging dialogue, addressing issues, proposing action steps and to be a networking group amongst peers. The Technology Leadership Forum is designed to be the voice of the ICT industry representing both large local and international businesses, in partnership with the Department of E-Commerce and other government partners, to assess and strategise about addressing the shortage of qualified individuals in the IT sector. Their goal is to contribute to advancing the agenda of creating a sustainable, qualified and professional ICT leadership pool of resources in Bermuda. As the demand for talented IT resources continues to be a keen need in Bermuda's public and private sectors, the TLF decided in 2009 to develop an educational internship program that would give IT students a well rounded and in-depth understanding of the ICT industry in Bermuda over 12 weeks during the summer. The objectives were to further cultivate student career interest in the technology area and to address the talent shortfall frustrating the Island's businesses through a unified approach and philosophy to ICT career development.

By exposing them to the education and experience required to be successful, this would enhance their potential for employment in the future. Upon being selected as a TLF Intern, the student is assigned to an internship position within a company or institution. The programme is a combination of work experience, classroom learning, team projects, examinations and fieldwork, with ICT members of staff at the participating companies as mentors. One out of every four weeks, all the interns are brought together for specialised training, providing exposure to new subject matter, as well as understanding the breadth and depth of careers in IT that exist and their importance to the business world and society.

While a focus is on hard skills, soft skills training is also provided in such areas as customer service and through group projects which demand the development of collaboration skills, amongst others. Students often find with the TLF internship programme that they are exposed to numerous areas of IT and are able to interact directly with senior IT professionals. This taste of the real world is very important and many of the interns believe that the exposure to the diversity of IT environments within companies, combined with the other aspects of the TLF Internship programme will allow them to successfully prepare for their future careers in IT.
Read More About
Category: All, News, Politics, technology