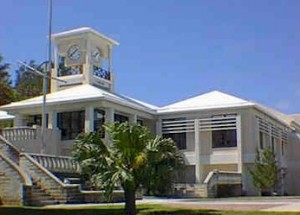 Fostering a stronger sense of black cultural identity and belonging in Bermuda could help to mitigate the anti-social behaviour of young men currently being drawn into the gang lifestyle, says a Bermuda College psychology lecturer.
Mr. Quinton Sherlock — at a presentation livestreamed on Bernews last night [Jan.27] – said an inititiative based on  encouraging a common shared identity might reduce the current spate of criminality and violence Bermuda is experiencing and prevent future generations from going the same route.
"An individual may be born a Jew but they become Jewish through their thinking and their behaviors as defined by a spectrum of Jewish thought and actions," he said. "Likewise an individual may be born a female but then she becomes become a feminist through her thinking  and actions as defined by a spectrum of feminist thought and behaviours.
"A person may be born black with the phsyical characterstic of a blck peson but they have to work to in order to develop one of the many black or African-centred identities and worldviews.
Mr. Sherlock said while there is no single way of being black, blacks have long been expected to relinquish their sense of self.
He said cultural suppression associated with slavery influenced black identity long after Emancipation.
And steps eventually taken to redress racial inequalities largely involved black cultural assimilation into a white-dominated society – resulting in blacks downplaying their own sense of self and assuming the culture of their former oppressors.
Mr. Sherlock said Bermuda should make more use of African-centred programmes which encourage young black males to be " alert, awake  and aware" – igniting a passion to develop a more focussed sense of self.
He cited the Ashay Rites of Passage pilot programme once taught at the Dellwood Middle School, which he said improved self-worth by exposing black males to another perspective of history, the world and themselves.
"Ashay emphasises reading and encourages research," he said. " The black male is exposed to African history and African cultures with African principles … truth, justice, righteousness, harmony, balance, order and reciprocity.
"In addition it introduces the young male to the Seven Principles of Blackness, which are unity, self-determination, collective work, responsibility, cooperative economics, purpose, creativity and faith."
Mr. Sherlock said while the programme was decried for "teaching racism" and eventually dropped, he argued the curriculum's core principles could be applied to anyone regardless of racial background.
And he said Bermuda needed an island-wide programme which would break the negative stereotypes of black males presented by mainstream society and the mainstream media, one which could help resocialise young men into a community many feel alienated from.
Mr. Sherlock's presentation at the Bermuda College drew a large audience to the Paget campus' North Hall lecture theatre. Among those in attendance were former Education Minister Randolph Horton, Opposition Parliamentarian John Barritt and Cabinet consultant Rolfe Commissiong.
Read More About