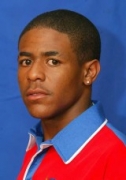 Malachi Jones [pictured] and Rodney Trott have been selected to participate in the ICC Americas Regional Academy, which will take place from March 1 – 10 in St. Kitts. The camp will be conducted by a top class assortment of coaches and sport specialists who have be responsible for helping to develop some of the world's current leading players.
Players attending the camp will get the opportunity to improve the technical, tactical, physical and mental aspects of the game as well as put these skills into practice in match play scenarios. During the camp the players will have the opportunity to play one fixture towards the end of the week.
Andrew Pick, ICC Americas Regional Development Officer stated: "This is the first Americas Regional Academy of this kind with 7 world cricket league teams in the Americas Region nominating two of their best players to make up the 16 man squad with the remaining two being nominated by St. Kitts and Nevis. We have employed a staff of 1st class Level 4 cricket coaches including myself, John Abraham, Chris Brown and David Scott, Sports Psychologist. The camp will include both technical and match play situations with one game at the end. The St. Kitts Government have been very generous in providing us with the Warner Park facility, which is certified for test matches. There are no comparable venues in the Americas region and this enables us to deliver the best possible environment for our players."
"This will be a very physically demanding week but the pay off will be a very detailed level of coaching input in small groups of 4. Ideally, we would like this to be a bi-annual event if the budget allows. In addition, we would also like to roll this Academy out to the U19 age group in which players would be selected from the Americas Division 1 Championship in February, 2011."
National Coach David Moore stated: "I am extremely pleased to have two players selected to take part in this academy. This selection is a reward for their hard work and recent good performances. This is an excellent opportunity for Rodney and Malachi to receive specialist training and to mix with other top players from around the region. I am confident they will make the most of this opportunity especially in the run up to the Division 2 Tournament in April.
Read More About