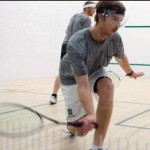 Bermudian squash player Robbie Maycock has been named the Dartmouth Male Athlete of the Week.
Dartmouth said: "Robbie Maycock helped Dartmouth to its third straight victory with a 7-2 win over Williams last weekend. With a 3-0 shutout of his opponent, Maycock improved to 7-3 on the season. The win is Maycock's third straight as the sophomore continues to be a factor for the Big Green. He has played at almost every spot on the ladder in his two years and this season he continues to improve and help his team to victories as No. 7 Dartmouth has just seven matches left in 2011."
The son of William and Jane Maycock. Robbie Maycock was the Caribbean Squash Champion in '02, '04. '06, and '08. He was also captain of the Bermuda Junior team in 2007 and 2008, and in 2007 he was on the Bermuda Men's Team in the World Team Championships.
[Photo courtesy of Dartmouth]
Read More About