Bermuda will get its first up close look at the new MINI Countryman this weekend when the latest addition to the iconic brand is unveiled at Ultimate Motors' showrooms this weekend.
The Countryman – the first-ever MINI with four doors and optional four-wheel drive on some models – will be on show to the public for the first time on Saturday, temporarily taking over the showroom space it shares with BMW.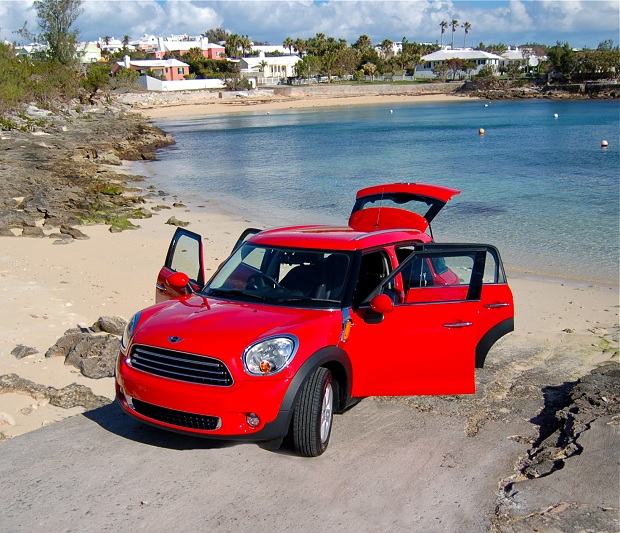 At 157 inches long, the Countryman is the largest and most spacious MINI ever built with a versatile interior that can comfortably seat up to five people but it retains the exciting go-kart style handling of a regular MINI. According to Michael Butler, general manager of Bermuda Motors, it's the MINI many people have been waiting for.
"It bridges that gap between the classic MINI concept and a modern sports activity vehicle," he said. "The two-door MINI isn't practical for everyone, especially if you have a family. It will not only appeal to previous Mini owners who have simply outgrown the car as they've got older and had families but now the Countryman gives them a stylish and practical option for a family car."
With a hidden compartment under the trunk floor and the rear seats folded flat, the Countryman offers up to 41.3 cubic feet of cargo space. The list of standard equipment for the MINI Countryman includes air conditioning and a CD audio system. Customisable options include exterior paint finishes and interior colours designed exclusively for the Countryman, a host of upholstery choices, trim elements and hands-free Bluetooth phone system.
The standard 1.6 litre basic Countryman starts at $60,000 and is also available in diesel. All MINIs sold by Ultimate Motors include two years' warranty and first service.
For more details or to arrange a test drive, contact Ultimate Motors at 292-0893 or visit Bermudamotors.bm
[Image courtesy of Kaleidoscope Media]
Read More About
Category: All