At approximately 4:30pm this afternoon [Jan 20] an accident occurred at the junction of Chaingate Hill and Middle Road in Devonshire. Both the Police and Bermuda Fire & Rescue attended the scene. The male motorcyclist was injured in the collision and taken to King Edward Memorial Hospital via ambulance.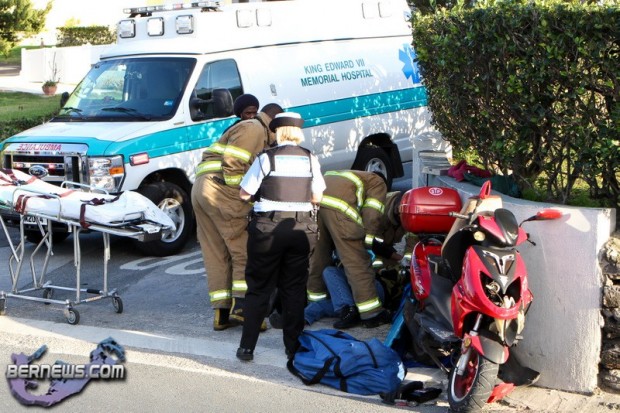 Traffic was temporarily backed up on both Middle Road and Chaingate Hill, however began flowing smoothly shortly after.
Update: Official Police information:
Around 4:30pm on Thursday, Police and first responders attended a reported single vehicle road traffic collision resulting in injury at the junction of Middle Road and Chaingate Hill in Devonshire. On arrival at the scene officers found a 58 year old Devonshire man lying in the road next to a damaged auxiliary cycle. The Devonshire man was taken to King Edward VII Memorial Hospital via ambulance for treatment of his injuries and subsequently arrested on suspicion of impaired driving. Inquiries into this incident are underway.
Category: Accidents and fires, All