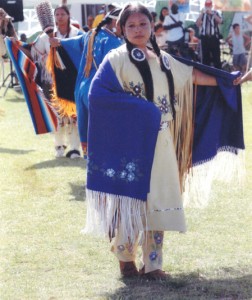 Work conducted by Alice Lopez and other Native American leaders to revive cultural links between East Coast tribes and their descendants in St. David's restored an important chapter on slavery written out of North American history, say a British Museum anthropologist.
Ms Lopez, who died suddenly at her Mashpee, Massachussetts home on New Year's Day, was a key player in Reconnection Festivals held since 2002 between the Wampanoag tribe and St. David's Islanders descended from Native Americans sold into slavery in Bermuda.
She is pictured here in full Wampanoag tribal regalia at a Bermuda celebration.
"Tall Oak Weeden, a Pequot/Wampanoag activist and historian, reports that after the ravages of the Pequot war in 1637, dozens of captives were shipped to Bermuda and forced into slavery …," said Max Carocci, a Research Fellow at the British Museum's Centre for Anthropology and specialist in East Coast Native American. "Tall Oak Weeden spent more than eight years gathering resources that would allow him to reconnect with the descendants of those Indian slaves deported in the late 17th century.
"In 2002 he finally managed to bring a group of Native representatives from the New England tribes to Bermuda to establish an international network that would set up direct communication between these distant relatives. Every year since then Bermuda has hosted a Reconnection Festival on the island of St. David, to celebrate the shared history of slavery that unites New England with these remote islands."
Dr. Carocci, in an essay for "Anthropology" magazine, said the local festivals as well as Wampanoag celebrations St. David's Islanders attend in Massachusetts had helped to demonstrate "that the enslavement of Native Americans has been largely written out of official versions of history".
These annual events had bolstered the cultural identites of both Bermudians and Native Americans and restored a long forgotten chapter in the story of North American slavery to the history books, he said.
Ms Lopez, a housing advocate for Wampanoags on Cape Cod as well as a Native American cultural historian, was highly active in the Reconnection Festivals and had become a familiar and popular figure in Bermuda in recent years.
Her funeral was held yesterday [Jan 8].
Read More About