Two new Honorary Fellows – conservationist Dr. David Wingate and educator Mr. Dean Furbert – were inducted into the Company of Honorary Fellows of Bermuda College on Saturday, January 29 at the Coco Reefs Resort.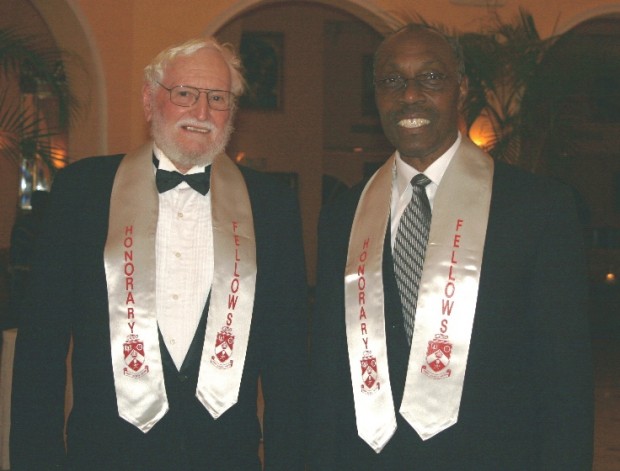 Dr. Wingate was born in Bermuda and soon manifested a strong interest in nature. At 16 years of age he was invited to join the 1951 expedition that resulted in the rediscovery of the Bermuda petrel or cahow, an endemic Bermuda sea bird that had been presumed extinct for more than 300 years.
Dr. Wingate has been involved in numerous conservationist efforts and expeditions since that time. He spent 38 years on Nonsuch Island, where he conceived and developed the "Living Museum" restoration project to try and restore the terrestrial ecosystem as close to Bermuda's pre-colonial habitat. The cahow trebled its population during that time and Nonsuch Island gradually attained international recognition as a leading example of restoration ecology.
Dr. Wingate was appointed Bermuda's Conservation Officer in 1966, and devoted the rest of his career to the restoration of Bermuda's native natural heritage. He is a founding member of the Bermuda Audubon Society and is the recipient of Queen's Honours – the MBE in 1975 and the OBE in 2000; King's Honours, the Order of the Golden Art (Netherlands, 1978) and the United Nations' Global 500 Award (1988), among others.
Mr. Furbert was born in Bermuda and has contributed to Bermuda's public education system for almost 40 years. He was a Science and Music teacher at the former St. George's Secondary School, principal of Francis Patton Primary School, principal of Dellwood Primary School and spent his final 7 years in the education system as chief Education Officer at the Department of Education.
He is also founder of the popular faith-based summer camping programme, Camp Hope, and has attained numerous distinctions from the Royal School of Music. His community service was formally recognised in 2004 when he was a recipient of the Queen's Certificate of Honour.
Read More About