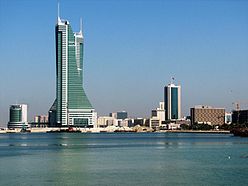 Business Bermuda hosted the Financial Services Conference presentation and reception yesterday [Feb 16] at the Capital Club, located in the East Tower of the Bahrain Financial Harbor, Manama, Kingdom of Bahrain.
The event included an introduction from Cheryl Packwood, Chief Executive Officer of Business Bermuda followed by a panel discussion by delegates from Business Bermuda including: Stuart Lacey, of Altree Financial; Nicolas Angio from Apex based in Bahrain; and Belaid Jheengoor from PricewaterhouseCoopers (PwC). The discussion covered shipping, Islamic Finance, fund structures and private wealth management.
After the discussion, the reception provided an opportunity for networking and promoting business between the two countries. This event is part of the continuing marketing effort spearheaded by Ms. Packwood to develop further the relationship between Bermuda and the Kingdom of Bahrain. The two nations already have strong ties through a Double Taxation Agreement and are looking to build on this as Bahrain develops as a Middle East insurance and reinsurance hub while Bermuda aims to develop as the Islamic financial center of North America.
Cheryl Packwood, Chief Executive Officer of Business Bermuda, said: "Business Bermuda continues actively and aggressively to market Bermuda as a financial center for international business. We see Bahrain as a gateway for Bermudian companies to expand their offerings from the Kingdom across the Middle East and North Africa regions while offering Middle East clients access to Bermuda and its markets.
"We are confident that attendees learned that Bermuda is well positioned to provide their businesses with the best possible services to enhance their growth in a well-regulated, financially strong and highly respected business environment. Bermuda is keen to position itself as the offshore jurisdiction of choice for Islamic finance."
Belaid Jheengoor, senior manager from PwC, added: "Many Bermuda-based companies and trusts have played key roles in Islamic finance transactions and can offer flexible solutions to this nascent industry. Widely recognized for its contribution to conventional finance, Bermuda has already shown its determination to increase its role in the growth of the Islamic finance industry. Bahrain is widely seen as the global leader in Islamic finance, playing host to the largest concentration of Islamic financial institutions in the world, and we are keen to strengthen our relationship with the Kingdom. It is likely that the global market for Islamic insurance will continue to grow, opening exciting possibilities for Bermuda reinsurers."
Stuart Lacey, from Altree Financial, said: "The recent tax agreement signed with the Kingdom of Bahrain enables Bermuda to offer firms access to an already rapidly growing industry in the world's leading center of Islamic finance. Bermuda is in an excellent position to support firms seeking to invest in Shari'ah compliant products, especially since regulations and laws form the foundation of our world-class financial services industry, making Bermuda well regulated, transparent and fully compliant."
Read More About