Love will be in the air tomorrow [Feb 4] and every Friday this month at the Bermuda National Gallery, when the Bermuda Department of Tourism [BDOT] kicks off its Feel the Love Fridays event, which will feature local performers including Sia Spence, Joy T Barnum, Gita Blakeney Saltus, Milton Raposo and Michael MacPhee.
Focused on celebrating love the BDOT will host a weekly complimentary event during February at the gallery to fuse visitors and locals in a unique picturesque art setting. The first Friday event kicks off with local female vocalist and former Bermuda Idol winner, Sia Spence.
Today the Minister of Business Development and Tourism Patrice Minors said, "We encouraging everyone to come out on Friday night and support our great local talent performing at the Bermuda National Gallery. I am extremely excited to have this event a part of our Feel the Love Programme as it showcases first class Bermudian artists and highlights our dynamic culture to visitors and locals alike."
Known for her great style and amazing voice, Ms. Spence said, "I am very excited and enthused about kicking off the event for Feel the Love Fridays. It is actually an honour to be chosen and seen as one of Bermuda's favourites for this event. I am a lover of love songs; therefore, I will be in my element when it comes to singing. I am all about love, and feeling the love."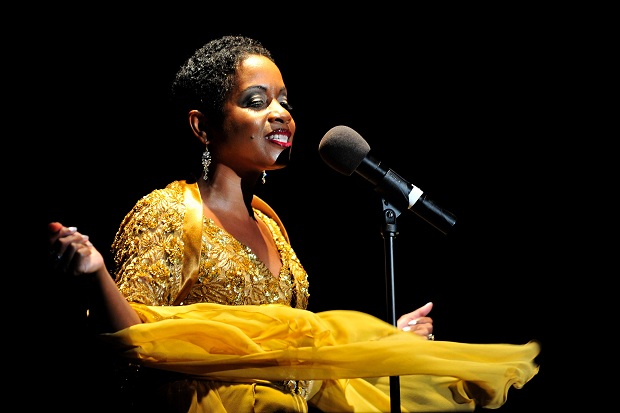 Among the other talented artists performing will be local songstress Gita Blakeney-Saltus [pictured above] with musical director Robert Edwards. The dynamic duo will once again join forces to bring a special Valentine's performance at the February 11th event.
"This event will highlight truly gifted singers within the context of the Bermuda National Gallery with the aesthetics of our local art as a backdrop. We will offer both our local community and our overseas visitor in a wonderful expression of that which is truly Bermudian," Mrs. Blakeney-Saltus said.
Concluding Feel the Love Fridays will be soulful local artist, Joy T. Barnum, who has recently returned to Bermuda after appearing on Heather Nova's European tour.
Joined by Milton Raposo on keys and Michael MacPhee on guitar, Ms. Barnum said, "Visitors and locals can expect an acoustic evening that gives a fresh perspective on my original songs that are rooted in all aspects of love, friendships, relationships with its ups and downs. We will combine popular songs that will be sure to move those in attendance."
This weekly free event presented by the Department of Tourism will take place 5.30 p.m. – 7.00 p.m. Guests in attendance will receive a complimentary wine tastings, courtesy of Gosling's.
Read More About
Category: All, Entertainment, Music