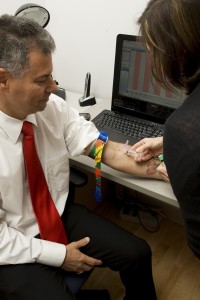 This week Health Minister Zane DeSilva paid a visit to the Cardiac Outreach, Renewal and Education Center CORE, located on Chancery Lane, to have his Cholesterol levels checked, in a bid to encourage others to do the same.
"With February designated as Heart Month I wanted to do something which would encourage people to be aware of their heart health," said Minister DeSilva. "As many of us know high cholesterol can lead to a heart attack if left unchecked. And you don't have to be overweight or inactive to have a heart attack. In fact, you could be in reasonably good shape…on the outside."
Several factors cause high cholesterol. They include poor nutrition, living a sedentary lifestyle, obesity, smoking, alcohol consumption as well as hereditary indicators.
Executive Director for the Bermuda Heart Foundation, Simone Barton, said living a "sedentary lifestyle" – not exercising and spending significant amounts of time sitting/lying down – can cause radically higher levels of LDL (bad cholesterol) and lower levels of HDL (good cholesterol) in your body.
"Although some foods contain cholesterol, such as eggs, kidneys and some seafoods, dietary cholesterol does not have much of an impact in human blood cholesterol levels," Ms Barton explained. "However, saturated fats do. Foods high in saturated fats include red meat, sausages, hard cheese, lard, pastry, cakes, most biscuits, and cream – to name a few examples."
Cholesterol itself is a fat which is produced by the liver and is crucial for normal body functioning. Cholesterol exists in the outer layer of every cell in our body and has many functions. It is a waxy steroid and is transported in the blood plasma of all animals.
Ms Barton explained that it is important to have your cholesterol level checked when you are young, since clogging of the arteries (atherosclerosis) is a gradual process that takes many years. In fact, total cholesterol should be measured at least every five years starting at age 20.
Read More About
Category: All