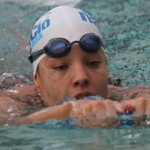 Kiera Aitken and her Catalan selection of swimming teammates lifted the Champions Trophy in Spain for the 23rd time in the organizations history.
The Catalan Team was first in the Spanish Championships with a total of 1744 points, with Madrid finishing second with 1703 points and in third place with 1402 points was Andalusia.
Ms Aitken competed in the 100m Butterfly Relay, and she and her teammates finished second, finishing in a time of 3:51.62.
She also participated in the 100m Backstroke Relay, which she and her teammates won in a time of 4:13.72.
Born and raised on the island, Ms Aitken presently lives and trains in Spain. One of Bermuda's most successful swimmers, Ms Aitken has represented Bermuda in numerous international events; Commonwealth Games, World Championships, Pan American Games and the 2004 and 2008 Olympics. A frequent medalist at international level, she holds a number of Bermuda national records.
Read More About