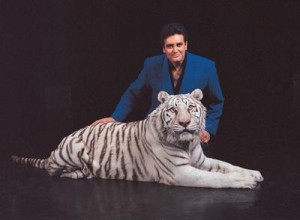 Homegrown Bermuda talent will be sharing the spotlight with world-class illusionist Rick Thomas when the award-winning Las Vegas entertainer brings his act to the island, Sandys Rotary announced today [Feb. 17].
Sandys Rotary is presenting "The Rick Thomas Magic Show" beginning with a gala opening on February 25 at the Southampton Mid Ocean Amphitheater. Each performance will be opened by one of Bermuda's own entertainers.
The service group's spokesman David Sullivan said: "Sandys Rotary has always sought to expose Bermuda to events that were beneficial to the community at large whilst also supporting specific charities. In keeping with this philosophy, Sandys Rotary felt that it was important to use this amazing international event to showcase some of our own local talent".
Rick Thomas — described as "the best magician in the world" by "Millionaire Magazine — commented on the use of local talent, saying: "This is the best way to present the show. It is perfect to include the amazing talent found right here in Bermuda. I have no doubt that this will make the presentation that much more special. I am honored to be working with these talented artists!"
The talent line-up is as follows:
Opening Night Gala Dinner & Show, Friday, February 25 – Shine Hayward and his horns
Saturday, February 26 – The comedy of Bootsie
Sunday, February 27 – The music of Shine Hayward
Monday, February 28 – The music of Tony Bari
Tuesday, March 1 – The music of Tony Bari
Wednesday, March 2 – The comedy of Bootsie
Thursday, March 3 – The music of Tony Bari
Friday, March 4 – The comedy of Bootsie
Saturday, March 5 – The music of Shine Hayward
For tickets to the gala dinner email galatickets@rickthomasbermuda.com or call 531-2725
For show tickets go to www.premiertickets.com, phone 275-1500 or in person at City Hall Box Office Monday, Wednesday and Friday 12 pm – 2 pm or Liberty Theater Monday – Friday, 9 am to 5 pm.
Read More About
Category: All, Entertainment