Last night [Mar.8] friends gathered yards from the spot where Jahmiko Leshore was fatally shot last week,  paying tribute to their friend at a roadside vigil.
On March 1st, the former Whitney Institute and CedarBridge Academy student was leaving a residence in the Boundary Crescent area of Devonshire when he was shot multiple times, sustaining mortal wounds.
His friends, who call themselves the HRC [Hermitage Road Crew], gathered around a tribute sheet, with candles flickering in the breeze late last night, as they quietly reflected on the loss of their friend. The sheet was emblazoned with Mr. Leshore's well-known nickname "Miko", and contained numerous written tributes.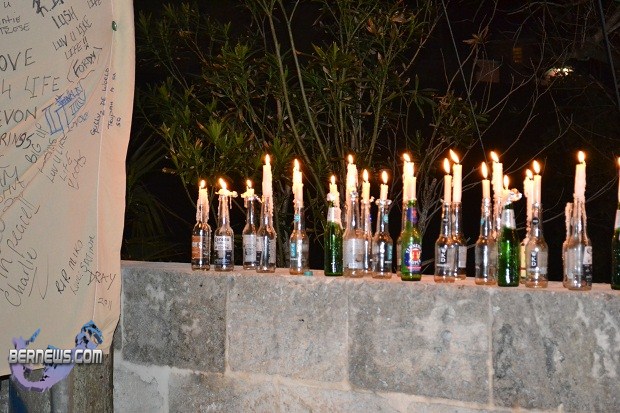 His first cousin pictured below, who now lives in the United States, returned home for the funeral. She said when she left ten years ago, Police didn't  carry guns, adding how sad she was to have seen the changes Bermuda has undergone.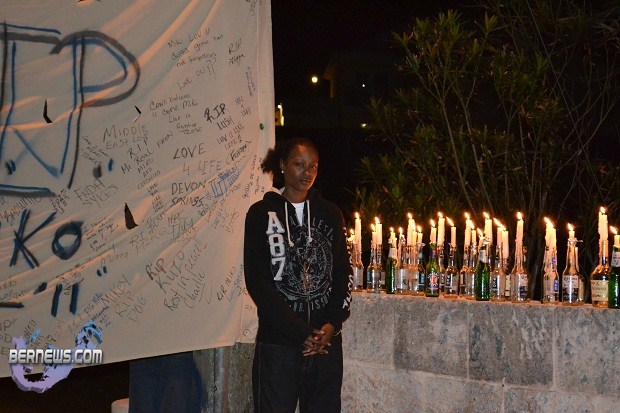 The 26-year-old leaves many devastated family and friends, including a pregnant girlfriend who is due to give birth to their first child in the very near future, something Mr Leshore was said to be very excited about.  His girlfriend, Tashae Brown, was present last night, and is pictured below on the left.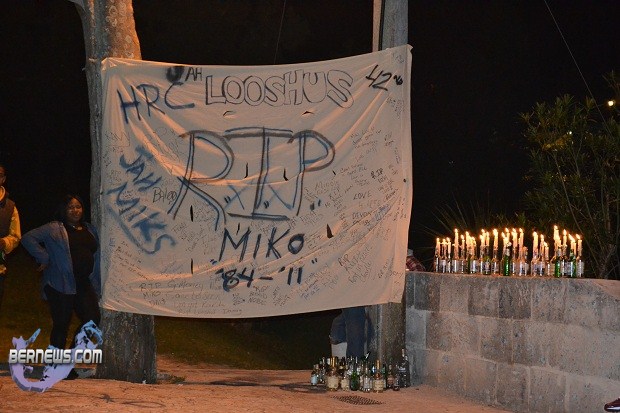 Mr. Leshore's family and friends will gather to say their final goodbyes tomorrow, with his funeral scheduled for the afternoon at the Seventh-day Adventist Church in Hamilton.
Police have made a total of five arrests in connection with the murder: three men [aged 20.20 & 24] were arrested on suspicion of murder, and two females [aged 21 & 22] for conspiracy to commit murder. Police previously stated Mr. Leshore was affiliated with a central gang, and that the shooting was gang-related.
Police officers investigating Mr Leshore's murder are anxious to speak with anyone in the Boundary Crescent and Hermitage Road, Devonshire area who may have seen a person or persons on a motorcycle and also on foot between 8:00pm and 8:35pm on the evening of Tuesday March 1st.
The Serious Crime Unit can be contacted on 299-8106. Alternatively, anyone with information can call the confidential and independent Crime Stoppers Bermuda hotline at 800-8477 (TIPS).
Read More About