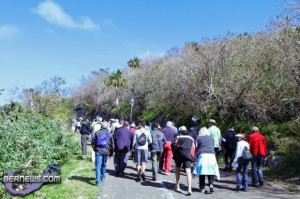 [Written by Larry Burchall] I'm glad I went on the "SDO" walk around the Tucker's Point project. I saw and learned a lot and came to a surprising conclusion.
I was curious about the whole development because for some years, I had seen the advertising for those beautiful units up on Ships Hill. I confess that my Bermudian heart hankered after them but my Bermudian wallet and asset base looked unlikely to satisfy my hanker. So I just looked and hankered.
Now I've seen the whole shebang. More correctly, I've seen what's been built and completed so far. My hanker level is a whole lot lower, my eyebrows are a whole lot higher, and my sense of wonder is sky-high.
My epiphany came when I stood at the base of the hill on Castle Harbour side, my back to the water, and my eyes looking up the hill. I saw massed concrete, walls, windows, and railings. To my mind's eye it looked like a beehive. But this was a beehive with each of the hive cells selling, I understand, for some huge dollar figure. Superimposed on all this was a bigger concrete blob said to be 'the hotel'.
The ocean at my back reminded me that this was Bermuda. That caused another epiphany.
I thought that anyone who had the moolah to buy a beehive would also have the moolah to want to take advantage of the amenity offered by our turquoise waters; and would want – and could afford – decent sized boat. Something at least 30 feet or so. That person would expect to walk out of his beehive and onto his (or her) boat; turn a key, and zoom off into the Atlantic.
But that couldn't happen. For a 30 footer, the only way in and out of Castle Harbour is through dangerous Castle Roads which means threading through a narrow and treacherous reef barrier. It also means that this reef passaging is only possible in ideal weather conditions.
The beehive effect coupled with the inaccessibility of the ocean meant, to me, that the only amenity was the golf facility and access to the rest of us lot in Bermuda.
Did I still hanker for a unit in the development? Not anymore. That beehive effect coupled with the inaccessibility of the ocean made that hanker vanish – fast. Damn fast.
Walking on but still thinking, I realized that up to that day, I had only seen the overall Tucker's Point development as that array of detached houses shown in the glossy ads. Now that I had seen the whole shebang, I realized that the Tucker's Point development was much bigger than I had thought, and also contained much that – to me – was unattractive bordering on downright "ohgly". Apart from a golf course, there was a clear lack of other amenities of the sort that reasonable millionaires might reasonably expect.
I was disappointed in what I saw. For me – Tucker's Point lost its attractiveness.
Given that Tucker's Point has had difficulty selling the units that it has already completed, I am not now surprised. I suspect that many others, their pockets far more loaded than mine, have made the same observations that I have made, have come to the same conclusions as I, and like me, have obviously walked away with their money still in their pockets.
Tuckers's Point, as a set of detached houses may have had the potential for financial success. However Tucker's Point as beehives plus hotel plus detached mansions plus golf course but without boats and yachts simply does not work. If it had worked, it would have attracted hundreds of buyers.
Tucker's Point as I saw it on Sunday, and as I think about it now, is a developer's mistake. An expensive mistake. For me, it is a fine five star concept executed at a sad three star level.
There is no point in pouring more money into it. There is certainly no point in giving it more scarce land.
Cut Tucker's Point loose. Let it go to the wall. At a much lower price, another buyer will pick up the whole shebang, and sell off those units, with their low amenities, at a price more suited to their real ambience. Then, and only then, will Tucker's Point work.
Allowing them to build more beehives in an already failed development is like investing another $100,000,000 with Bernie Madoff – after he gets out of jail.
Read More About
Category: All, Environment