On March 1st Jahkimo Leshore was fatally shot while in the Boundary Crescent, Devonshire area, marking the second murder of 2011. The 26-year-old leaves many devastated family and friends, including a pregnant girlfriend who is due to give birth to their first child in the very near future.
Shortly after the unfortunate death of Mr Leshore, a tribute sheet appeared in the St Monica's Mission area.
In addition to the Leshore's family name, the sheet lists families of other murder victims from the area including the Robinsons, Puckerins, and Harfords. In January 2010 Perry Puckerin was murdered in Hamilton Parish, in May 2009 Kenwandee "Wheels" Robinson was killed in a drive by shooting on St Monicas Road, and in December of 2009 Kumi Harford was also fatally shot on St. Monica's Road. Another Harford brother was shot on two separate occasions, however survived both times.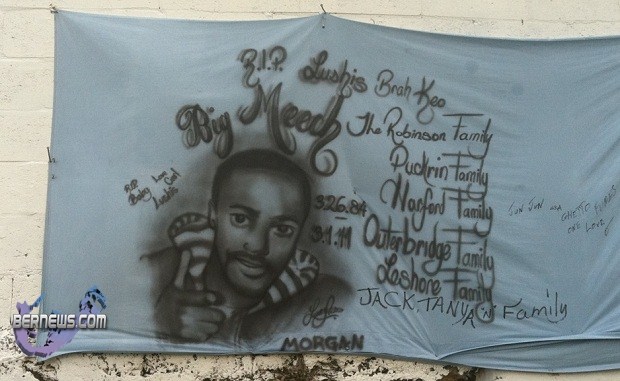 The morning after the shooting, Police arrested three men [aged 20, 20 and 24] on suspicion of murder following arrest operations at two different residences. At a press conference held later that day, Police confirmed the shooting was gang related.
The Police investigating Mr Leshore's murder are anxious to speak with anyone in the Boundary Crescent & Hermitage Road, Devonshire area that may have seen a person or persons on a motorcycle and also on foot in these areas between 8:00pm and 8:35pm on the evening of Tuesday March 1st. One suspect is believed to have been wearing a hooded top with a darker colored jacket, light colored trousers or jeans, and light coloured shoes or sneakers.
The Serious Crime Unit can be contacted on 299-8106. Alternatively, anyone with information can call the confidential and independent Crime Stoppers Bermuda hotline at 800-8477 (TIPS).
Read More About