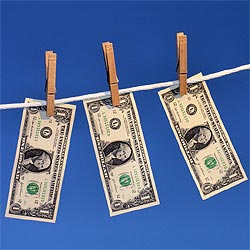 This morning [Mar.7] in Supreme Court, Roger Vincent Cox, a 38 year old from St. George's, pleaded guilty to three offences of Money Laundering.
Also appearing with Mr Cox was Michelle Laverne Lindsay, a 49 year old book keeper. Ms Lindsay pleaded guilty to one count of Money Laundering involving her receipt and subsequent 'layering' of $25,000.00 of criminal proceeds on behalf of Mr Cox.
Both defendants sentencing was adjourned until the 15th April 2011 so that social enquiry reports could be completed.
A Police spokesman said, "The offences to which he pleaded guilty were identified during the course of a 3 year investigation conducted by members of the Bermuda Police Service Financial Crime Unit. The Court certified that Cox had benefitted from 'criminal conduct' in the amount of $2,287,856.91."
"A Confiscation / Forfeiture order was made in the sum of $1,474,613.82. This order included the forfeiture of more than $750,000 in cash, recovered from the defendant's home and from a safe deposit box following his arrest as well as the contents of numerous bank accounts held by the defendant and a substantial quantity of jewellery purchased by Cox during the course of his criminal activity."
Detective Inspector Grant Tomkins, head of the Financial Crime Unit said, "This case was brought to court following a 3 year investigation by officers in my unit. The investigation involved cooperation between numerous agencies, both local and overseas; and serves as an indicator that the Bermuda Police Service will vigorously pursue those involved in laundering the proceeds of criminal conduct."
Read More About
Category: All, Court Reports, Crime, News