Last night [Mar.8], the Premier was joined by Cabinet Ministers in hosting a Town Hall at Penno's Wharf in St George's. For approximately two hours, Cabinet Ministers spoke, as well as answered questions from the audience. Topics were wide ranging spanning the economy, transport, crime, employment and much more.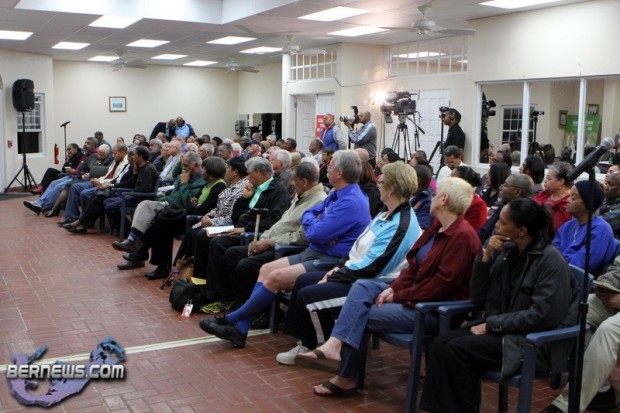 National Security Minister David Burch said he will touch on two "hot button" areas, and spoke on the Hustle Truck initiative, and the media reports that the Bermuda Police Service may reduce staff. He said the "Hustle truck is not dying, was never dying, is going nowhere, its going to be modified to reflect the funding that we have."
Starting out by saying, "No, we're not getting rid of Policemen," the Colonel received applause at the end of his short speech, after saying "And the reality of the situation is if we've gotten the numbers wrong, then I will do as I did last July, I will go back to my Cabinet collegues and ask for more money and they will give it to me. Because we are committed to not allowing the success we've had with Police arresting crime in the country to stop. Bottom line."
A man asked a question about telephone operators from overseas answering the phone for local companies including HSBC and BTC's 411 service. Minister Blakeney said, "When it comes to private enterprise and businesses making business decisions in this country, we still operate in a democracy, and a free enterprise system. So when it comes to them making strategic decisions relative to their bottom line as businessmen, sometimes they do things that may not be popular, but allow them to survive at the end of the day." Minister Blakeney went on to discuss Government initiatives to assist Bermudians in gaining employment.
Transport Minister Terry Lister said as the Town Hall was being held in St George's, he would cut right to east end matters. Speaking on cruise ship arrivals, Minister Lister said Government "will do their best with buses and ferries to get them down here."
Education Minister Dame Jennifer Smith, the St George's MP, was greeted with a round of enthusiastic applause as she stood to speak, and joked that she brought her own fan club with her.
Approximately 1.5 hours of the Town Hall is below, broken up into 17 videos of 13 different Cabinet Ministers. Use the scroll bar at bottom to navigate through the videos:
Read More About