On February 28, 2011 the local branch of The International Federation of Business and Professional Women [BPW] made a donation to three charities after raising funds during their annual tag day.
In November of last year, Young BPW Bermuda (members of BPW Bermuda up to age 35) hosted their annual tag day to raise awareness for the World Day for the Prevention of Child Abuse.
They raised a total of $1006 and said they would like to send a heartfelt thank you to all of those who donated towards this worthy cause. 100% of the proceeds of the tag day were donated to three worthy charities; namely the Sunshine League, The Coalition for the Protection of Children and the Women's Resource Centre.
Pictured below from left to right are: Shannah Butterfield (YBPW); Sherrie Outerbridge (Women's Resource Centre); Gabrielle Stewart (Chairperson YBPW); Sheelah Cooper (Coalition for the Protection of Children); Cheri Minors (YBPW); Sarah Dunstan (Sunshine League); Tiffany Faries (YBPW)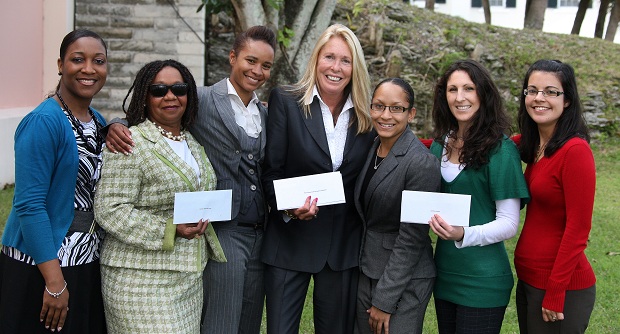 A spokesperson said: "BPW Bermuda would like to thank these three organizations for their exceptional work and encourages Bermuda to continue supporting these organizations."
BPW is a network of business and professional women with affiliates in 80 countries, and consultative status with the UN Economic and Social Council and participatory status with the Council of Europe.
BPW Bermuda, an affiliate member of BPW, contributes to Bermuda's society by enabling women to sustain themselves economically. In addition, BPW Bermuda has worked for the reform of the Immigration and Rape Statutes over the years, offers personal development programs for members such as mentoring, leadership training and workshops and has established a scholarship fund which provides financial assistance to qualified young female applicants.
Read More About