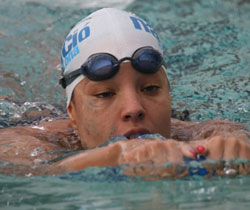 Bermuda's athletes continue to excel overseas, with news coming that Kiera.Aitken has won four medals in the XVI Spain Club Cup.
Over 300 swimmers from various Spanish clubs took part in the event, which took place in Castellón, Spain this weekend.
Ms Aitken, who lives and trains in Spain, won a Gold Medal in the 100m freestyle, finishing in 56.41.
She then won the Silver Medal in the 50m backstroke, finishing in a time of 28.55, just behind winner Lidon Field who swam a time of 28.46.
Ms Aitken went on to win two more Silver Medals; in the 100m backstroke recording a time of 1:01.31, and in the 50m freestyle where she finished in 26.45.
Ms Aitken's four medals add to what has been an exceptional weekend for local athletes. In addition to five top ten finishes by track and field athletes in US meets, the Bermuda National Volleyball Team beating two teams from New York, athletes have set two new records and won three international events.
The Bermuda National Cricket team beat Hong Kong in the ICC World Cricket League Division Two Tournament in Dubai, with Jason Anderson the top scorer with 106. The team is resting up to take on Uganda tomorrow.
Lamont Marshall shattered the 5,000 meter Bermuda National Record during the Duke Invitational in North Carolina, and Ashley Berry broke the 3,000 Bermuda Junior Record while competing in the same event.
In addition Flora Duffy, despite almost being hit by a jet ski, won the 2011 Mazatlan ITU Triathlon in Mexico.
Read More About