Bermuda Autism Support and Education [BASE] hosted its largest-ever workshop when more than 100 participants took part in an all-day session led by visiting consultant Dr. Paula Kluth at Mount St. Agnes Academy on Saturday.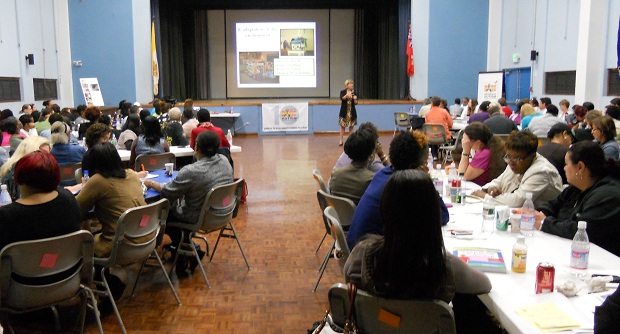 Chicago-based Dr. Kluth is a renowned autism and inclusive schooling expert and author. She works with teachers and families to provide inclusive opportunities for students with disabilities and to create more responsive and engaging schooling experiences for all learners.
The workshop – "You're Going to Love This Kid": Educating Students with Autism in Inclusive Classrooms" – was a key event for Autism Awareness Month and designed to help parents and professionals develop their expertise in autism and renew their enthusiasm for their work with individuals on the autism spectrum.
Dr. Kluth said the workshop and her best-selling book of the same name were based on her more than 20 years experience as a teacher of students with autism and remain her most popular.
She said the workshop had been well-suited to Bermuda where all students – with and without disabilities – are educated together. "This is a goal people in other countries have been trying to reach for years!" she said. "Most of he topics covered in the workshop – including ideas for helping students polish communication skills; active learning structures; tips for creating comfortable classrooms; learning games; and adapted instructional materials – work just as well for students with and without unique learning needs.
"The fact that Bermuda is small has some wonderful benefits. Teachers have to learn from one another and they have to collaborate. In addition, in a small community, creating changes in an educational system can be much easier than in a larger region. With only a few dozen schools on the Island, word can travel quickly and so can innovative practices.
"I am hoping that participants left with a range of ideas they could use immediately. We did a lot of brainstorming and had a lot of time for discussion. Based on these conversations, it was clear to me that educators are committed to educating all students in their diverse classrooms. I overheard many teachers saying that they were going to use ideas right away on Monday morning."
BASE consultant Susannah Cole said BASE was delighted with the turnout. "It was very encouraging that so many people are willing to put the time in to learn the skills that are needed to work with students with autism. Paula Kluth was an excellent presenter and the feedback we have had already from the workshop has been overwhelmingly positive."
The first 35 people who registered for the workshop received a free copy of Paula Kluth's best selling book, "You're Going to Love This Kid": Teaching Students with Autism in Inclusive Classrooms. For more information about her work and many other resources related to inclusive schooling and differentiated instruction checkout her website at: www.paulakluth.com.
* * *
Related Posts
Category: All