The end of the world is almost here – according to literature being handed out by a group of people in Hamilton today.
The group consists of approximately 30 visitors to the island who traveled here for a two-day stay during which they are spreading the word of the impending "end of the world."
The group was out and about today [Apr.11] in the City of Hamilton handing out literature and CD-roms about the "impending Judgement Day" to interested and not-so interested persons.
The group is convinced by their reading of the Bible that the end of the world will begin May 21, 2011. They say May 21st is Judgment Day — so they are not saying the world will end next month — it's just the beginning of the end. The actual end of the world, they say, will be on October 21, 2011.
These are the teachings expoused by 89-year-old preacher Harold Camping of California, the owner and operator of Familyradio.com, which is run entirely off the millions of dollars it receives in donations from followers.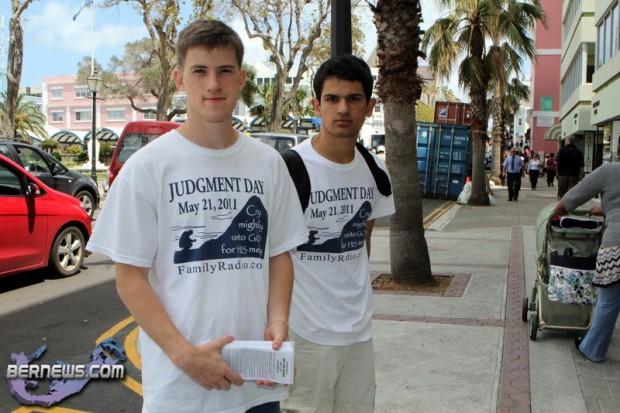 This isn't the first time Mr Camping has made this prediction, having previously said the world would end in September 1994. Followers of Mr Camping gathered with him and awaited the end of the world. Clearly, it did not come.
That, he says, was a mistake, a misreading of the biblical codes used to decipher the exact date of the 'rapture'. There was some error with his calculations, a mistake he claims he did not make this time.
In 2003, the Associated Press reported that "An influential Christian radio host, best known for his failed predictions of the second coming of Christ, has run into more derision and criticism for telling listeners to abandon church. Harold Camping says his Bible studies have revealed that what he calls 'the church age' has ended. He has told his worldwide radio audience that Satan has taken over all churches."
The Associated Press also quote David Clark, who tracks Christian fringe groups, as saying "He's got pastors all over the United States in an uproar. He's gone over the edge this time."
According to the group's website, there is various "proof" that May 21 2011 is the judgement day. According to them, Noah's great flood occurred in the year 4990 B.C., which indicates that May 21, 2011 will be judgement day. To also provide "proof," the exact date of the crucifixion – April 1, 33 AD – is used. According to their reasoning, there are 722,500 days from April 1, 33 A.D. until May 21, 2011 – the alleged day of judgment.
In addition, the website claims "God has planned today's situation of Gay Pride and same-sex marriages to show the world that it is on the threshold of Judgment Day. He has shown us that an obviously parallel situation exists between Sodom, when it was on the threshold of destruction, and the world of our day, which is on the threshold of destruction."
This group, which is not connected with a church, did not contain any locals, nor are they affiliated with any local organizations. Most of those visiting Bermuda are from the New York area, and on the island for the first time. Other followers of Familyradio are traveling in various other locations to "spread the word."
The group is handing out items including the flyer below from FamilyRadio:
Read More About